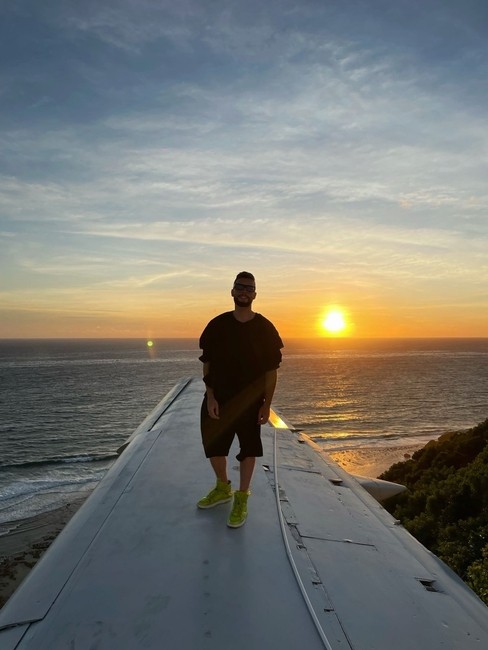 Chertkovski always seems to surprise his audience with some magical and original projects. This time, our favorite DJ is collaborating with none other than Make Like a Tree to bring beautiful art to music streaming. The news is going viral due to the artists involved as well as the recording location, i.e., the Private Jet Villa, Bali. Chertkovski shared the whole story on Instagram with the picturesque sunset view. Click here to see the post.
The Private Jet Villa is the world's first luxury jet villa established on a 150-meter cliff above the aesthetic ocean on the Island of Gods. The view is gorgeously beautiful, and the idea is unique as well as spontaneous. It has already been published by influencing information sources such as CNN, CNA, Capital, and AFP. The good news is that more musicians are going to utilize this scrumptious space for shows and new tracks that have not yet been announced or released. Moreover, it will be captured by one of the best cameramen in Grabovest's films.
About Chertkovski:
Among various DJs and music composers, Chertkovski has established himself as a top-tier personality in the music industry. From the start of his profession, Chertkovski has been an awe-inspiring figure for everyone. His music has been played during the Olympic Games in Sochi in 2014 and the UEFA European Championship in 2016. Chertkovski's work won first place in an international competition held by the German music company Magix Music Maker. He specializes in Progressive House and Melodic Techno. Chertkovski released downtempo/organic house music in 2021 on labels like Siona Records, Area Verde, INVRS, UNVRS, Shango Records, and others. 20's current tune grabbed the 15th spot on the best beat port list, and Mantra placed 33rd in the organic house downtempo genre.
Till now, the outstanding artist Chertkovski has worked with a variety of artists and magnificent projects such as Savaya, formerly known as Omnia, as well as prominent showcases such as Odyssey, Mantra Productions, and Cekta.
In a week Chertkovski in collaboration with Make Lake a Tree will record a stream from Private Jet Villa. The 1st in the world luxury jet villa on a 150-meter cliff above the beautiful ocean on the island of Gods!
This unique object has already been published by info sources like  CNN, AFP, Capital, CNA etc. 
In a stunning location during  Balinese sunset musicians will convey this atmosphere and show some new tracks not  yet released and it will be captured one of the best cameramans Grabovest Film.
To get more updates about the upcoming projects of Chertkovski or more info about the Private Jet Villa project, keep following him on Instagram.