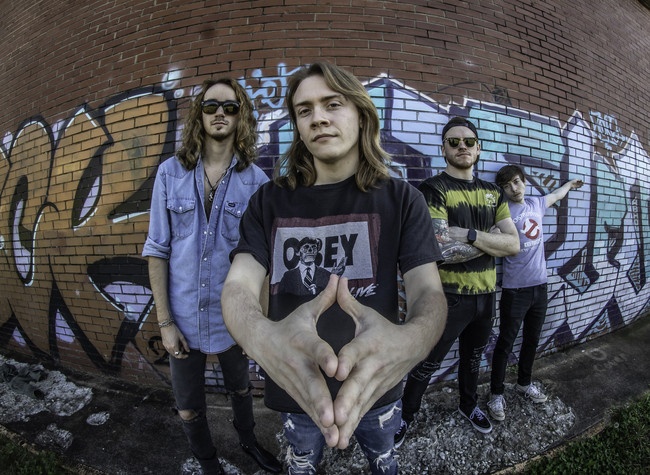 First off, tell us a bit about yourselves. Who and what are the band we know as 53 Judges? 
We are four guys who love to create, play music, and socialize with anyone we can. Coming from a smaller town in north Alabama, there was never a whole lot to do—the choices were really go out and have a night you want to forget, or do something productive and rewarding like creating and learning songs. We fell in love with it in high school and the love for it only grew from there. The band consist of; Noah George- Lead vocalist, Chad Carter- Guitarist, Josh Wright- drummer, Sam George- bassist. Describing each of us as people, Noah is a very driven person and he maintains a strong routine both in life and music. Chad and Sam are similar in the sense of having a wide variety in music taste, and both bring new material to the band. They stay busy with music along with in life, and Josh helped bring a whole other side to the band in terms of being professional—how to go about your business as a musician, and in music taste as well.
What's the story / meaning behind your band name? 
The funny thing is, we collectively came up with many band names that had some sort of meaning, but it happened to be the one without meaning that stuck. We were all in the practice room at home tossing band names around, and we wanted a number of some sort to start the name, and Noah said "how about 53 Judges?" and from there we ran with it.
Let's hear about the new EP Pay To Play—what's some of the inspiration behind it, the backstory, and meaning behind the title? 
The story behind our EP "Pay to Play" is a mixture of things. First off, we like to give credit where credit is definitely due, and Nirvana was part of that inspiration. At the same time though, we named it that because we feel we would do anything to go out on that stage whenever, where ever, with any act. Pay to Play signifies putting your money where your mouth is.
"Lover Flies" is a killer track, and definitely carries the 'anthem feel' on the release. It seems to be a fan-favorite as well. Can you tell us a bit about that song? What message(s) did you want the audience to draw from it? 
We thank you for the kind words about the track. We are happy to see that people are listening and showing there friends and families. We do write a lot of songs with back story in the meaning and personal struggles, but we felt "Lover Flies" was just more of an upbeat song to get you going with a really cool sound. We wanted a fun song that popped and we felt we did that. If we were to analyze the lyrics more, we would probably feel comfortable to say it's up to the listener. How we take it is talking about someone who spends a lot of time alone, but never thinks about himself, which we find cool.
What is the dynamic and chemistry like between the bandmates as far as songwriting, production, and managing the affairs of a budding musical act? 
The chemistry between the band is extremely strong, and it's only grown over time. We all love to hang out outside the music, go see another band or catch a movie—it's a brotherhood. In terms of songwriting and production it's very smooth and natural. Chad or Sam will bring a new song to the table and we all get together in the practice room and play it dozens of times.
Everyone will throw out new ideas or lyrics during that time and before we know it, we have a new song. When it comes to being a band and balancing life it can be hard sometimes, especially when life can get in the way of that. Whenever we tour and come home, we take a nice break just to get back in the swing of things, it definitely can take a toll if you let it, but we do our best to manage that.
The music industry has been described as one of the toughest industries in the world, but it's also one of the most fulfilling when you're able to share your music and your message with an audience. What are some of the things that drive you and keep you motivated in the pursuit of music? 
We definitely agree that it's extremely hard to keep going when your looking to share your music to the masses, It's belief in your self and seeing what goes on in the music world around you that either strengthens that, or weakens it. You fight with both a lot, and try not to get over zealous when good things happen, or get very down when bad things come your way. We really look at the things that have happened lately with young rock bands breaking through that have been a major inspiration to us, along with peoples reactions at our shows that keep us going. Without these young bands and people we probably wouldn't have been together this long.
Are there any upcoming shows we should know about?
We are booking for the new year right now, and we are having our EP release party July 21st at Shagnasty's In Huntsville, Alabama. We will have physical copies of our new EP along with playing new songs and some old ones.
Any last words / anything you'd like to share with the readers? 
The last thing we would like to share is we look to push harder now then ever, we have already written some new songs that we hope go on our next release and look to continue to expand our fan base, continue to play shows, and spend more time in the studio. We are also looking forward to the friends and fans we meet on the way!