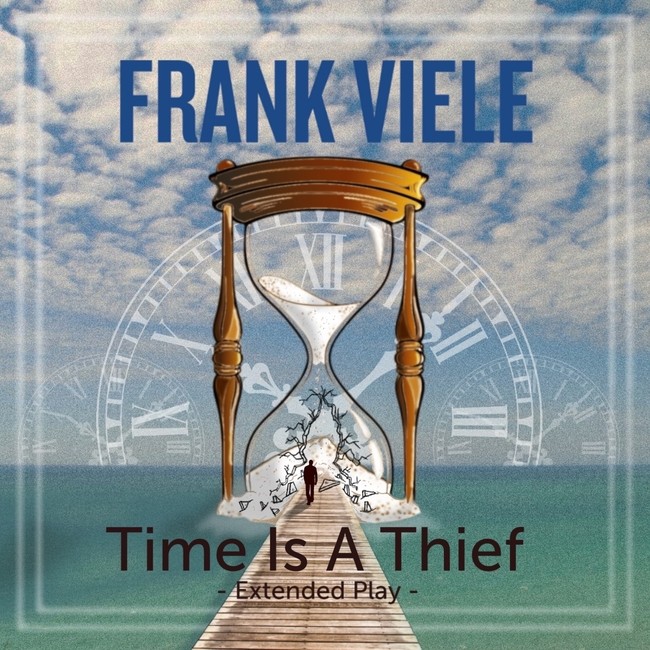 Frank Viele is a talented singer-songwriter, guitarist & performer and he has outdone himself with his latest EP titled 'Time Is A Thief'. This project was spawned during the pandemic where Frank Viele realized time is much too valuable to waste. So, Frank put his pen to the test and started writing songs about the preciousness of our existence. 'Time Is A Thief' is born and we are all better off because of this wonderful recording session.
Frank Viele collaborated with some top-shelf music industry professionals on this EP including: Jimmy Nutt (Jason Isbell, American Aquarium, The Dead South) and James LeBlanc (Travis Tritt, 
Will Hoge, Tim McGraw, Faith Hill, Dylan LeBlanc, Rascal Flatts). 'Time Is A Thief' also features premier musicians including: drummer Liberty DeVitto (Billy Joel), bassist Scott Spray (Johnny Winter), and cellist Dave Eggar (Coldplay, Ray LaMontagne ). This 4 track EP was recorded at various locations from Stamford & West Haven Connecticut to the legendary Muscle Shoals, Alabama. The end result is pure gold!
The listener will instantly be attracted to the coolness of Frank Viele's voice and his smooth guitar strumming. With elements of Americana, rock and blues, Frank has a unique style that will connect with many people out there. Starting with the title track, "Time Is A Thief", one will hear a catchy rhythm and laid-back sound that showcases Frank Viele's superb vocal tones. "Time Is A Thief" offers relevant lyrics that do make you stop & think as you listen closely. Next, we have "The River" that provides a calming sensation, which will be flowing through your ear canals for days to come. With a pleasing melody, "The River" is a calm rush of audio that is so soothing and simply music to my ears. Track three, "Tears Drag You Down", is a song with true meaning and one that has mass appeal. Frank Viele sings and performs with much conviction on "Tears Drag You Down" hitting on all chords. Taking it home in style on "Love You Enough (The Vultures)", Frank ends the set with a lively jam. "Love You Enough (The Vultures)" is a real fun number and Frank Viele is giving the audience some rockin' riffs that can be enjoyed all day and all night long.
Frank Viele has had the pleasure of opening up for some popular music acts such as: Will Hoge, Blues Traveler, Lee DeWyze, Zach Myers of Shinedown and The Marshall Tucker Band. Frank Viele is a true talent himself and one of a kind when it comes to his satisfying music. Writing from the heart and playing like there is no tomorrow, 'Time Is A Thief' is up and ready to go. Frank Viele has created a timeless piece and one that can be appreciated and revisited time and time again. Frank Viele has scored BIG with his latest release, 'Time Is A Thief', so check it out NOW and don't wait!
By Jimmy Rae