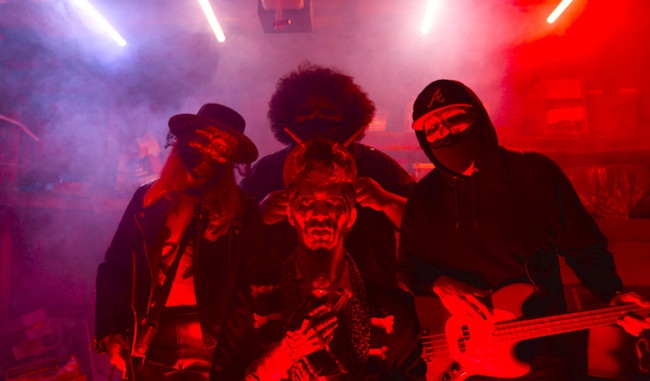 The Critically-Acclaimed Musician Explores Mental Health & Societal Issues In Stirring New Song And Video; Also Unveils Innovative Rendition Of 1960s Defiant Anthem "Shape Of Things To Come" As A "B-Side" Track
Creature Benny can be found on all DSPs, SoundCloud, and iTunes. Follow on Instagram and YouTube @CreatureBenny.
On the heels of his critically-acclaimed release "Rock And Roll (My Face Off," Avant-Garde LA Artist Creature Benny is back with the thought-provoking, soul-wrenching, post-quarantine single "Pandemic Madness," which is available now on all DSPs.
Describing the song as his "long-delayed reaction" to months of suppressed "thoughts, feelings and emotions" during what was "hopefully the worst of the covid-19 pandemic in the United States- 2020," Benny says he was inspired to write "Pandemic Madness" in the weeks leading up to March 2021, having noticed an odd pattern of behavior in himself, his friends, and beyond.
"In January/February 2021, just as we were coming up on the anniversary of covid turning life in the U.S. upside down overnight, I started to notice everyone I knew was getting weird, myself included. After all that time and sorrow, people were becoming super squirrelly and doing all kinds of strange and unusual things to reclaim some joy in their lives," he said.
Benny continues, "Constant news and notifications of how many new covid cases were popping up every day, and how many deaths too, for months… And then the tragedy of George Floyd's murder by the Minneapolis Police Department went down, and we all saw the police overreaction to the very righteous protest movement that followed, which definitely added to the weight on everyone's spirits. And the whole election shit, plus those idiots breaking into the Capitol on January 6th… heavy 10 or 11 consecutive months, Jesus, damn."
To convey the single's powerful message, Benny turned to friend and Director Jeremy Trombetta to film an accompanying video that is available at https://youtu.be/-B3fOtS95h4. With a mission to depict the drudgery, monotony, and eventual mental demons that began to creep in for so many during that time, the video has one powerful message, according to Benny – "eventually it's only by communing with your demons that they begin to work with you and eventually disappear."
Director Jeremy Trombetta said, "I hope that when people watch the video, they can relate to the feeling of being stuck at home alone with a sense of darkness hanging over their head; the kinds of feelings many of us were feeling during the beginning months of the pandemic, I wanted to try and portray Creature Benny's music as a coping mechanism for those feelings and something that got him through those times and brought some beauty to being stuck at home. In terms of filming goals, the aim was to do as much as we could with what we had, and I'm very proud of what we were able to put together."
In addition to "Pandemic Madness," Benny is offering a "B-side" track entitled "The Shape Of Things." The song, originally titled "Shape of Things to Come," was written to be performed by a fictitious band (Max Frost & The Troopers) in a 1968 hippie movie (Wild In The Streets), and re-worked by Benny (lyrically, vocally and instrumentally) to put a modern feel to the generationally-defiant track.
Creature Benny can be found on all DSPs, SoundCloud, and iTunes. Follow on Instagram and YouTube @CreatureBenny.