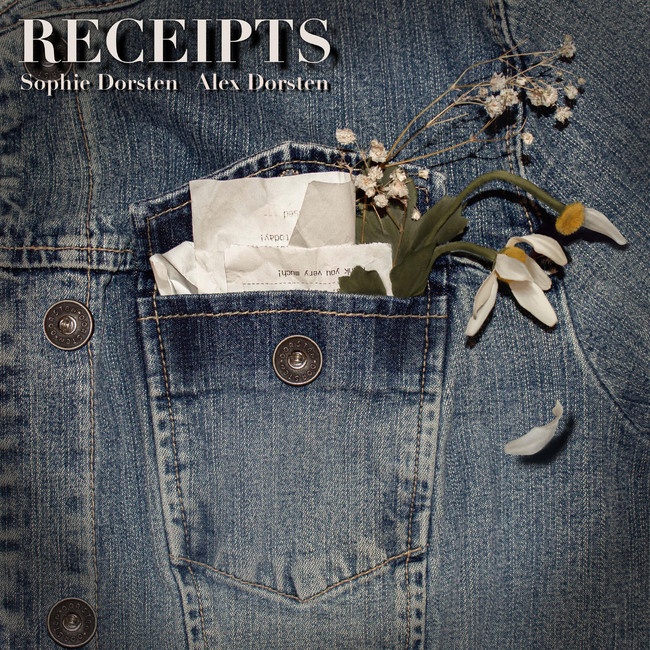 I'm so happy to hear this multi-talented singer/songwriter from the Phoenix, AZ area continue to grow stronger each time I hear her sing. I am not kidding when I say that Sophie Dorsten gets better and better with each new release and her newest song, "Receipts" is proof of that. It just blows me away every time I hear Sophie Dorsten sing because her voice is like pure Gold. With one refined voice in tact, Sophie is taking her vocal performance to another level on the newest release, "Receipts".
"Receipts" is performed by Sophie Dorsten and her brother Alex Dorsten as the two siblings have collaborated once again. Sophie and Alex have created several songs together as of recently and they have all been magic in a bottle. The overall production and recording quality of "Receipts" is a crystal clear cut without a scratch in sight. The guitar playing is also spot on and very well done by Sophie and Alex Dorsten. What I noticed right away when listening to "Receipts" is that this may be Sophie's most soulful performance to date. To this point, Sophie Dorsten has stayed true to her Pop/Folk roots but on this track, Sophie is busting out of her shell in a BIG way! Sophie sings in such a soulful manner that comes across as both silky smooth and extremely powerful. I knew Sophie Dorsten had the pipes awhile ago, but this performance puts a stamp on Sophie being a premier singer in today's music world. I am hearing an impeccable voice on "Receipts" along with a noteworthy chorus and rockin' riffs to boot. Sophie is simply singing her heart out on this new song while showcasing an amazing vocal range. Alex Dorsten plays like a seasoned professional with stellar guitar chords being strummed. This brother/sister duo has done it again and achieved greatness with their latest project called "Receipts".
The listener will be instantly captivated by Sophie's commanding performance on the microphone while getting lost in the song itself. The style of "Receipts" is chill as ice and proves that Sophie & Alex Dorsten are a couple of cool characters with a little soul in their bones. "Receipts" will fully satisfy the senses and will leave the audience wanting more! I am so impressed with Sophie and Alex Dorsten's efforts on this new release as they both truly delivered an outstanding performance. Cash in "Receipts" and you will have a winning number every single time!
https://sophiedorstenmusic.com/
Be sure to SKOPE out Sophie Dorsten's "Receipts" on all major streaming platforms including Spotify:
By Jimmy Rae (https://skopemag.com/?s=Jimmy+Rae)