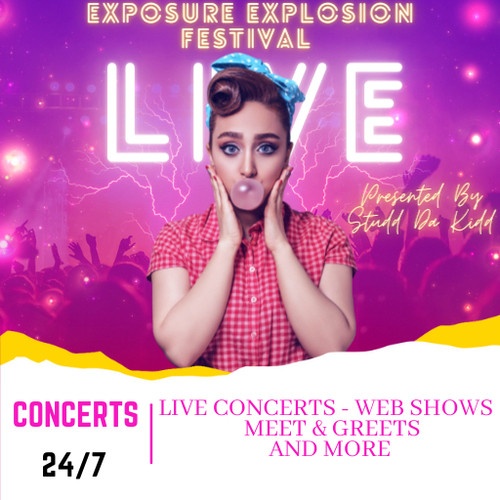 Studd Da Kidd's Exposure Explosion Festival Live app isn't just another subscription service in an ocean of up-and-coming projects from indie players in the music industry – it's a new way of looking at organizing an entertainment career from the ground up. From celebrities to publicists and artists themselves, Exposure Explosion Festival Live has been designed to invite participants in the music industry onto a shared platform that facilitates live performances, web shows, podcasts, networking between entities, and a slew of other features you'd normally find segregated into numerous different apps from scores of companies. Studd Da Kidd has condensed everything into a one-stop-shop in this project, and she's rightly getting a lot of love from the critics for it. 
COVID hasn't made playing live music very easy in the last two years, but through this app artists can hold live, personalized video concerts and performances that connect directly to fans, utilizing critical ticketing and merchandising resources along the way to ensure a strong showing for the hard work invested. When you're coming up from the street level, building an audience is the first step towards success – with a project like this in your pocket, you can focus purely on the product rather than the process. 
Merchandising is the bread and butter of the indie game, and Studd Da Kidd knows it. She's not leaving us out in the cold on this front either with this app; contrarily, selling everything from shirts to selfie posters couldn't be much easier with the Exposure Explosion Festival Live interface. Rather than using different vendors, distributors and integers to get from A to B in this business, this simplifies the entire hassle of getting your artistry into the hands of those who dig it (and it's surprising it took this long to get something this sweet). 
LINK TREE: https://linktr.ee/studddakidd
Exposure Explosion Festival Live offers two subscriptions priced at $8.99 per month or $79.99 annually, the latter being a really good deal for those who are planning out a long-game with recording or an upcoming concert schedule, and these numbers keep them more than competitive with some of the biggest names in promotions today – truth be told, they've cornered the market here. For about half the cost of a Hulu Premium subscription, you're getting access to a war chest of resources normally reserved for the mainstream alone which, to me, is really invaluable as an independent player. 
If you're interested in getting into the big leagues in music, Studd Da Kidd is a contact you want to have in your phone, and moreover, her app in Exposure Explosion Festival Live is a must-download in my opinion. Those who take their careers seriously don't go down an untrustworthy path with strange, smiling faces all too eager to make them a deal and take over the creative planning – Studd Da Kidd is a real artist with a real passion for this game, and she's making that known in her generous offering via this app. 
Gwenn Waggoner