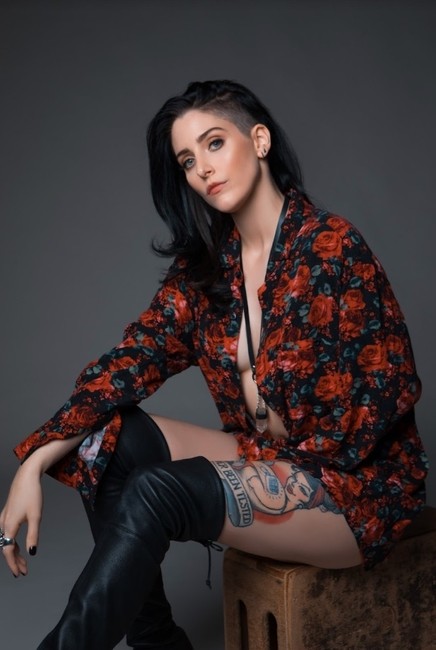 MOTIVE BLACK is new to the mainstream, but they're already impossible to forget. They're an alt/hard-rock band from the City of Angels, and it all started in 2018 when frontwoman Elena Justin packed up and moved from New York to the West Coast in search of a new perspective of life and music. MOTIVE BLACK was formed on the Sunset Strip, where the mighty group of four perform together. Since then, they've been crafting their honest and toe curling sound for the whole world to scream along to.
Elena and MOTIVE BLACK don't hold back when it comes to music. The whirlwind of emotions and honesty that comes with every track is stemmed from Elena's very soul. "Broken" is soaked in emotion but with a powerful, anthemic backtrack. The track holds nothing back right from the very first second. From the get-go, we hear Elena's powerful vocals and the heart racing music backing her up. The band had the opportunity of working with superstar producer Nick Rowe (Vampire Weekend) and was immediately inspired by the band's rawness. "Broken" acts as a mirror to Elena and her emotions. Known for their lyrics, the words act as a guidepost to a new generation who feel lost and misunderstood. It's a song that's mean to be screamed at the top of your lungs.
The video shakes you and drops you in the middle of the MOTIVE BLACK world. The video starts immediately with a slow opening trunk with Elena in a straitjacket and muzzled with a mask dripping in chains. She's dragged inside some kind of mental institution and locked inside a room. The building is drenched in grungy red and orange lights and dripping with shadows from every direction. When she's not restrained, she joins the band for a killer performance. She stays face to face with the camera as she belts her heart out. She finally breaks out of her restraints, and the video comes to a mellow end with a glitchy, zoomed-in shot of Elena.