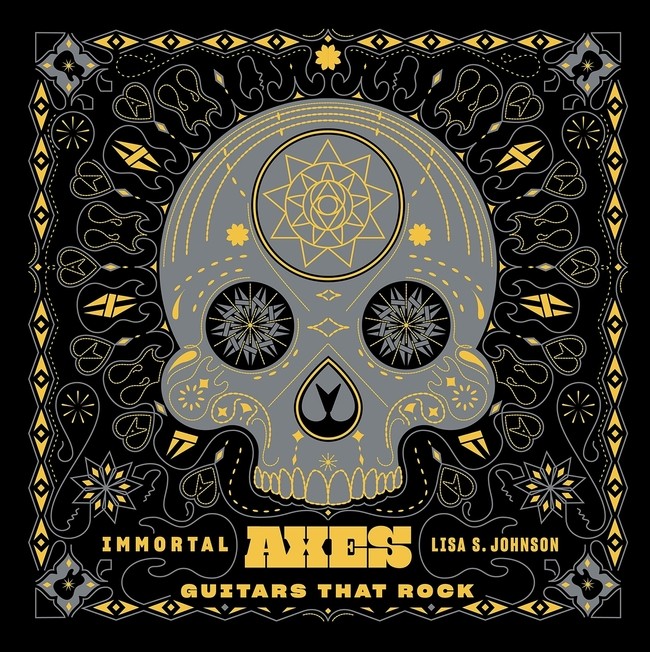 The textured inlays beneath the strings of B.B. King's "Lucille #9." The faded paint on Steve Harris' '74 Fender Precision Bass. The inelegant burst of color against a dark backdrop on Hendrix's iconic Flying V, the same guitar he would play at the Isle of Wight festival just shortly before his death. From the blues lexicon to the modern rock movement, the arguably the most important guitars in the history of popular music are on perfect display in Lisa Johnson's Immortal Axes, which arrived in bookstores this past September to critical acclaim from both audiophiles and photography lovers everywhere. 
There's something for everyone in Immortal Axes, from Beatlemania holdouts to those who have always had a love for the six-string George Thorogood played the slide over on numerous blues-rock classics. The detail here is limited mostly to the visual, with the guitars themselves being more of the primary storyteller than any of the actual linguistics from one page to the next could account for on their own. I love how Johnson lets her photography make the statement in this book rather than relying on a lot of dialogue to establish the narrative she's looking to create (and ultimately constructs with rather a brilliant adeptness). 
The wear that we see where a scratch guard would normally be located on Charlie Christian's hollow-body Gibson isn't made brighter nor removed from sight in the spread it's afforded in Immortal Axes, but instead allowed to reach out to us and come alive with historical importance, alluding to the passionate play the guitar once enjoyed so many years ago. The same can be said for Bob Bain's Telecaster and Steve Hacket's 12-string and Paul Dene's Japanese Strat knockoff; they're fleshed out in all of their unfiltered glory here, much as the music they created was. 
AMAZON: https://www.amazon.com/Immortal-Axes-Guitars-That-Rock/dp/1648960235
Rather than going with something posh and cosmopolitan, there's a rather homespun feel to the way the pages flow together in this book that speaks directly to the raw stylization of the material in question as it was originally performed live. Simply put, at no point does Lisa Johnson sound like an insider simply sharing her inside knowledge with an otherwise clueless outsider like myself – there's an almost conversational feel to the way Immortal Axes is put together that makes me want to spend significant time poring over the details of every photo, every notation, and every song that comes to mind when thinking about the artists who played these amazing instruments. 
Immortal Axes is an excellent read for the rocker in all of us, and for friends of bold photography, I think it's going to be worth a second and third look for certain. Lisa Johnson doesn't front with a lot of unnecessary bombast in this book; she gets into the guts and the glory of pop's most important instrument with a tool she knows how to use like few others in her medium can, and as a person who loves high-end photography, I think this is a fantastic addition to any household collection. 
Gwen Waggoner