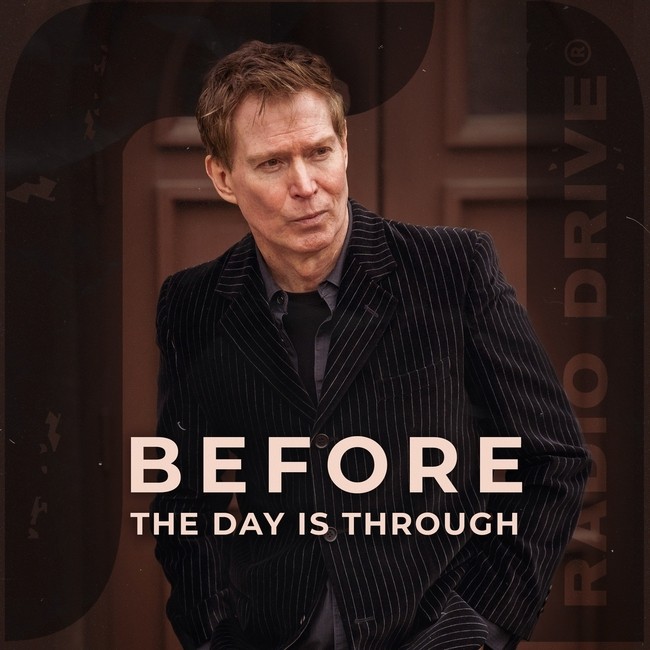 I've had the pleasure to work with Radio Drive on numerous occasions over the years and the music just seems to get better & better over time. Radio Drive is like a fine wine aged to perfection and with the new release titled 'Before The Day is Through', it's time to break out the wine glasses and celebrate! Reason being is because this album by Radio Drive is some of the band's best work to date with highly creative & professional tracks that will blow you away. Radio Drive is moving full steam ahead with this new record and not letting up on the gas for a second!
Radio Drive is comprised of one man by the name of Kevin Gullickson who delivered the vocal & harmony sections along with the guitar, bass and keyboard parts. Kevin also wrote, arranged and recorded all 13 songs on 'Before The Day is Through' making this top-shelf artist/multi-instrumentalist a surefire Music Captain and certifiable record maker. Radio Drive did include other talented musicians on 'Before The Day is Through' and these artists are from all around the world. Another worthy mention is that this album was mixed & mastered by Grammy and Academy Award-Winning Producer & Engineer, Brendan Dekora. Brendan Dekora has worked with heavy hitters in the music industry including: Foo Fighters, Nine Inch Nails, Bruce Springsteen, John Legend, Billy Idol, Michael Buble and many more. So, it's safe to say that Radio Drive was in good company and in the driver's seat with Brendan Dekora taking the reigns in the studio. The end result on 'Before The Day is Through' is just pure magic and simply an utter delight to experience this firsthand with my ears.
The album starts up with a really cool rock hook on "It's Who I Am" that offers an infectious sound. Next, wrap your eardrums around a peaceful aura while living for the moment with relevant lyrics on "In the Now". Track three, "Giving the Best", supplies a very catchy melody to go along with top-notch playing and instrumentation that was solid as a rock and on point. Radio Drive is rockin' out and firing on all cylinders on "No Time to Stay" and then prepare for some pleasing chords on "What You Know". Track six, "Let My Love Be the Proof", offers up a powerful performance that is jam-packed with emotional notes as Kevin Gullickson sings with so much conviction. I was very excited to hear the next number, "Thank You", because it's a song by one of my favorite bands—the one and only Led Zeppelin. I have to say that I was highly impressed with Radio Drive's version of "Thank You" making it an excellent cover. Radio Drive stayed true to the roots of the Zeppelin mode while adding a new, alternative twist that blew my mind. I can honestly say that Radio Drive broke the Led out in true and original fashion and all I have to say is "Thank You" because you nailed it! Moving along in the set, we hear "The Other Side" next that turned out to be an intriguing listen to say the least. On "The Other Side", the listener will get a sense that Radio Drive is deeply connected with a spiritual element and captivating rock presence that can't be overlooked. Track nine, "You Held Me", is personal and reflective in nature as Radio Drive is standing strong with lines like: "Now I can see, now I am free". Get ready to dive into a dreamscape world on "In My Dreams Tonight" where you can escape from your worries and just let your mind & ears roam free for a few minutes. Track 11, "Let My Love Be the Proof (Reprise)", showcases Radio Drive having a commanding presence thanks to a wonderful orchestration and arrangement. This trend continues into the next song, "You Held Me (Reprise)", with a phenomenal performance overall. Radio Drive ends the 13-track recording in stellar fashion with an amazing display of sound that will be in your head all day on "In My Dreams Tonight (Reprise)". Radio Drive decides to go out on a lighter note with "In My Dreams Tonight (Reprise)" where one will feel like they are floating in the air due to the delicate tone of the song.
'Before The Day is Through' is Radio Drive's seventh full-length album to date and a brilliant piece of work it is. Released back in August 2021 by 12 Story Records, 'Before The Day is Through' has already seen much success and glowing reviews. "In My Dreams Tonight" wins Top Finalist Award for Best Alternative song by the World Songwriting Association, "The Other Side" wins a nomination for Best Rock Song by the Hollywood Music in Media Awards and Radio Drive is awarded #10 in the TOP 50 Overall Artists on 7522 Radio (Aug 2021). The success won't stop now for Radio Drive and 'Before The Day is Through' because there is not one bad song on the album and also because Radio Drive is moving forward in top gear. Kevin Gullickson is no stranger to noteworthy accolades as Radio Drive has won numerous awards and has received countless nominations over the years for the music compositions. Songs have been aired on radio stations all around the globe alongside major artists and Radio Drive has topped the indie charts as well. Kevin's music has been used on shows airing on NBC channels, Animal Planet, National Geographic, Comedy Central, Fox Channels, History Channel, Spike TV and Discovery Channel in the USA and TV programs around the world. Along with Brendan Dekora who works on the current project, Radio Drive has also had the pleasure of working with highly-esteemed music producers & engineers over time including: Gene Paul, the son of legendary Les Paul, Multi Grammy Award winning engineer whose credits include Rolling Stones, Led Zeppelin, Eric Clapton, U2 and more, Chris Garcia, whose credits include Adele and Katy Perry, Stuart Epps, whose credits include George Harrison, Bill Wyman, Jimmy Page, Elton John, Led Zeppelin, Oasis and more, Robert L. Smith, Academy Award winning and Grammy nominated producer and engineer, whose credits include David Bowie, Aerosmith, Paul McCartney, and more. Radio Drive has already put together an impressive catalog and musical library with a rich history that continues to grow stronger each and every day.
'Before The Day is Through' can be purchased on all major music platforms worldwide and you can even take a listen on Spotify if you like: https://open.spotify.com/album/2xe8xmQ49ahd9PFYGAU0BM. I continue to be inspired and moved by Kevin Gullickson and his music where Radio Drive continues to evolve and become greater than its previous self/image. With a mix of pop, rock & alternative, Radio Drive pulled out all the stops on 'Before The Day is Through'. With many more achievements to come and goals to conquer, Radio Drive is sitting in the driver's seat and accelerating into the horizon at record pace. All there is left to do now is enjoy the fruits and ride off into the sunset 'Before The Day is Through'.
By Jimmy Rae (https://skopemag.com/?s=Jimmy+Rae)
Facebook:  http://www.facebook.com/radiodrive 
Twitter:  http://www.twitter.com/radiodrivemusic 
Youtube:  http://www.youtube.com/RadioDriveMusic 
Instagram:  http://www.instagram.com/radio_drive  
Spotify:  https://open.spotify.com/artist/5JZELlsigjpKLVji8J1n3e?si=0z00cEbgReCUflTkYoGsUQ