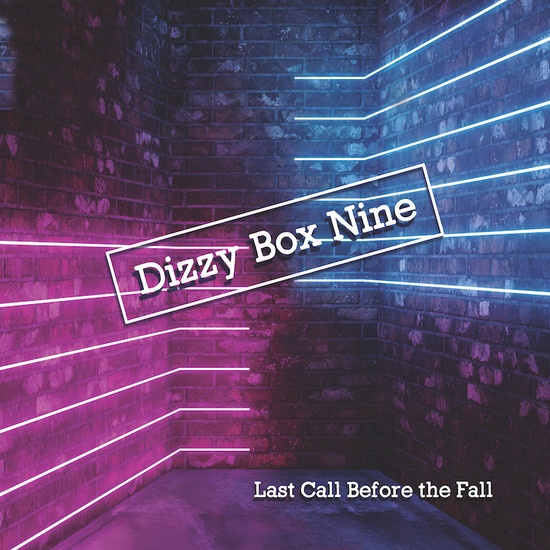 There's an innocent joy running through Dizzy Box Nine's album Last Call Before The Fall. The album, however, has a title that suggest something dead serious. Apocalyptic, even. However, don't be dissuaded by these 'end of the world' suggestions. Dizzy Box Nine is about having fun in making fun music.
The "dizzy' in the band's name may make you think about the way kids love to spin around in the front yard until they can't stand up any longer. They eventually fall to the ground laughing. Dizzy Box Nine is a band of adults, but it doesn't sound like they've forgotten any of the pleasures they experienced during childhood. It's as if they said, 'Let's get together and make some loud melodic music and see what happens."
One called "GPA" rolls to a Bo Diddly groove. Lyrically, it's all about a girl that always stays by her guy's side. The song, however, is not what its title makes you think it is. It's not a rock song about grade point averages. Although much of this music is upbeat and beat-heavy, one titled "Check-In" is a slower, quieter, more reflective song. It's a nice break from much of the hyperactivity that precedes it. Another slightly slower one is "Coca-Cola." It finds a guy wishing for all the good things in life – including that special girl.
Dizzy Box Nine came into being in 2016, started by singer-guitarist Randy Ludwig. The act is a trio, which also includes guitarist Tony Robles and drummer Amos Przekaza. The group is Los Angeles based and stands out on a scene that's oftentimes too overly serious, with acts that take themselves far too seriously.
There's not anything particularly heavy going on with these songs. Even though "Mississippi Rain" begins with a spoken word part, it's more akin to the sound of a MC encouraging an audience to have a good time. Most of these songs sound like the Ramones, had they decided to be a bubblegum rock band, instead of inventing punk rock
Much of the time, these tracks begin with a simple, melodic electric guitar part, before drums and vocals come in. Lyrically, the group doesn't try to be vague or poetic. Instead, they're more like straight shooters. Why beat around the bush? Why drop endless hints when you can get right to the point. For example, "1978" includes the line "It all started out in 1978." If you're expecting some secretive event that took place in the late '70s, you won't find it here. Don't try and make this anything more than it really is. Instead, consider some of these songs as writings from a plainspoken journal, put straight to good old rock & roll.
https://www.instagram.com/dizzyboxnine/
The earliest examples of rock music sounded a lot like Dizzy Box Nine, in many respects. You could say this band is a return to those days. This is roots rock of the rootsiest roots at times. Bands like Weezer have recorded similar simple songs. There's nothing wrong with simplicity. If you're tired of rock stars and all their complicated shoes, this just may be the cure for your sophisticated blues. Rock on!
-Dan MacIntosh