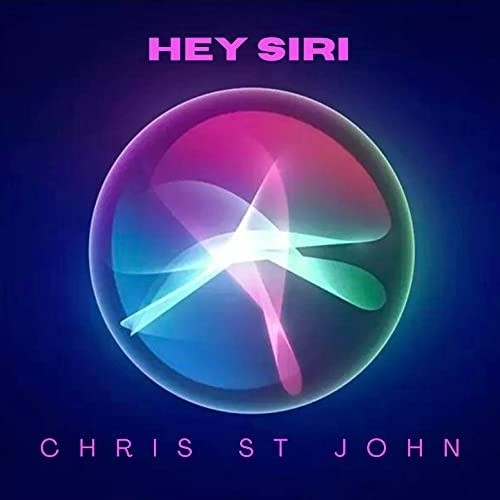 "Hey Siri!" I must say that statement more than a couple of times a day, yet never when singing along to a tune that turns that phrase into a hypnotic hook. That was until Chris St. John released his latest in a string of singles, 'Hey Siri'. Chris St John has been going from strength to strength this past year, notably these past few months when we saw his name at No. 3 in the European and No. 8 in the Word Indie Music Charts. Yep, pretty big deal. His most recent album 'I'm Dreaming' blew up in the indie meets folk scene and when you hear his smooth tone, mesmerising way with melodies and hypnotic lyricism, you truly understand why. Whilst 'Hey Siri' is a step away from the ballad nature of his recent successful singles, it boasts the vibrant energy and powerful performance that we have come to expect and love from Chris St. John. 
Whilst the soundscape for 'Hey Siri' carries easy-going energy, the themes at the core of this summery single speaks some real truth. 
"We are prisoners to our phones and devices. We are much more productive, but at the cost of our peace, privacy, and creativity. When technology fails us in any way, even for a moment, we lose our patience. We are at the world's beck and call, and that is stealing our happiness. People need to decide for themselves whether the progress we see is a better or worse loss for the human condition." 
This is the harrowing reality at the centre of 'Hey Siri,' yet the summery sound world and infectious energy of this track allows this truth to sink in with style. Chris St. John's powerful vocal presence sails over the light instrumentation with all the charisma and charm that shines through in all his discography. Organ motifs swell in and out whilst percussion is peppered throughout the sonic landscape. An intricate guitar riff underpins the infectiously energetic instrumentation; it's not hard to imagine blasting this track at the beach of an evening. Chris St. John has sculpted the most captivatingly catchy melody I've come across in a while. The chorus will be ringing in your head well after the first listen. And with cleverly crafted lines such as, "we're a captive audience, we're stuck inside our day," you'll be grateful. 'Hey Siri' will have you thinking whilst tapping your toe — that's some impressive artistry. Perhaps the only irony is that this track will have us all saying "hey Siri… play Chris St. John'.
Follow Chris St. John on FACEBOOK | TWITTER | INSTAGRAM | WEBSITE 
Listen to 'Hey Siri' on SPOTIFY NOW 
Watch the video for 'Hey Siri' on YOUTUBE NOW 
By Sasha Lauryn