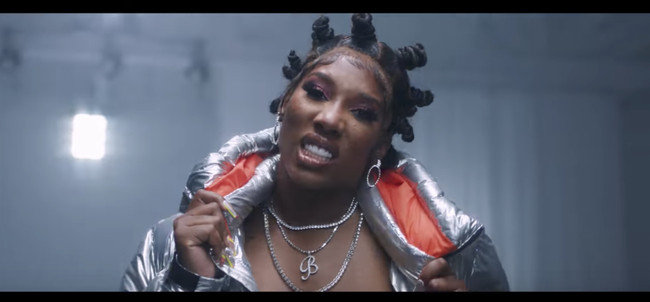 Emerging singer-songwriter Bee-B taps into the spirit of the legendary rapper and producer duo of Missy Elliot and Timbaland on her new release titled "Confidence." The track sees her working with producers Harmony "H Money " Samuels and Edgar "JV" Etienne who flip Missy's classic track "She's A Bitch" into something new for 2021. They employ the same low tone bassline, iconic stabs with some added features like sizzling synths and punchy drum grooves to match Bee-B's smooth flow and empowering lyrics that dwell on positive affirmation. Bee-B also got the approval of both Timbaland and Missy who gave her their blessing and the rest is history as the saying goes.
The visual makes use of a plethora of colorful motifs and set pieces that tie into the confidence theme of the song. From the '90s fashion and bubble goose gear, a slight nod to the Olympics, Michael Jackson's Thriller to the classic hip-hop entourage settings, the video delivers the goods which keep viewers locked in. Bee-B is in pure performance mode as she steps to bat with an animated style as she channels inspiration from Missy Elliot herself.
Brittany Chikyra Barber, known professionally as Brittany B. or Bee-B, is an American Grammy Nominated singer, songwriter, and recording artist from Compton, CA. Throughout 2016 she released two mixtapes including: AfterHours, and HelloSummer, which were critically acclaimed. Her EP Urban Nostalgia debuted #168 on the R&B iTunes Top 200 charts in 2018. She has collaborated with numerous artists including Kash Doll, Summer Walker, John Legend,YG, Ty Dolla Sign, Eric Bellinger, Chrisette Michele and Ledisi. She has writing credits that include Theophilus London's "Can't Stop" ft. Kanye West, Ledisi's "Let Love Rule" and Atlantic Records' artist Bhad Bhabie. She is also known as one of the youngest African American female A&R's to have worked at Warner Music Group. Brittany B. has added reality television star to her resume featuring on VH1's Love and Hip Hop Hollywood as a main cast member.
Bee-B was born and raised in Compton, California, United States. She has two younger brothers. She attended Centennial High School and played basketball. She began singing at ayoung age in church choir which sparked her interest in becoming a singer. Bee-B got her start singing background vocals at local venues in Hollywood, CA. She then met Terrace Martin who took notice of her budding talent. She worked on Terrace's Locke High 2 album lending her vocals to such songs as, "Love" ft Ty Dolla Sign, "Lithium" ft. Punch, and " We Just Keep It Hood". She then began receiving local recognition in Los Angeles.
In 2014 Bee-B inked a publishing deal with Spirit Music Group after penning "Can't Stop" ft. Kanye West for Theophilus London. She began touring with Chrisette Michele for her "Lyricist Opus" tour and also featured on the hit reality show, "R&B Divas LA" alongside Chrisette. In 2016 she began working with Ledisi and John legend on their albums and in studio collaborations with some of the hottest producers in the industry. On February 14, 2016, Bee-B released her mixtape AfterHours and signed to Empire Records. During this time she received film and TV syncs on hit shows such as FX's "Atlanta" and TV One's "Bad Dad Rehab" film. She continued writing and received a call from an executive at Warner Music Group to begin working on viral sensation Bhad Bhabie. Brittany co-wrote her first single, "These Heaux" which debuted #77 on the Billboard Hot 100 charts, making Bhad Bhabie the youngest female rap artist in history to chart on the Billboard Hot 100. Brittany also went on to co-write such hits as "Whatchu Know", "I Got It", and "Mama Don't Worry (Still Ain't Dirty)" , as well as numerous other songs with the young rapper. She was credited as associate executive producer and co-A&R for Bhad Bhabie's "15" project which has garnered over 700 million streams to date. This led to an A&R position at Warner Music Group making her one of the youngest African American female A&R's at the label.
In 2017 Bee-B was nominated for a Grammy in the category of "Best R&B Album" for Ledisi's "Let Love Rule" album, in which she wrote the title track as well as the duet, "Give You More" ft. John Legend. This was Bee-B's first Grammy nomination of her career.
Now Bee-B has yet again been part of breaking talent with her songwriting skills. Helping Post Malone's artist Tyla Yawah with his Hot 100 charting "Who Shot Johnny", La Reid's new break out songstress The Bonfyre on the track "U Remind Me" and penning "I'm Her" ft. Kiana Led  on Queen Naija's debut album MISSUNDERSTOOD, she's been creatively consistent. Bee-B has continued to break barriers as an entrepreneur as well, adding "teacher" to her resume. She has also created the Songwriter's Survival course which she has taught at 1500 Or Nothin' Academy in Inglewood, CA in 2020.
2021 has been an exciting year for Bee-B. In April she released the high-energy anthem "Stretch" produced by Harmony "H-Money" Samuels though EMPIRE / Get LOUD Music Group. Her second release, "Confidence" will debut in August and is positioned to be a fan favorite. Starting on the popular VH1/Viacom franchise Love & Hip Hop Hollywood in its 6th season, Bee-B returns with a big move from LA to ATL for Season 10 where she is prominently featured as a bridge between both cities and between two different L&HH outposts. Currently, Brittany is gearing up for more television endeavors, and will continue to release new music.