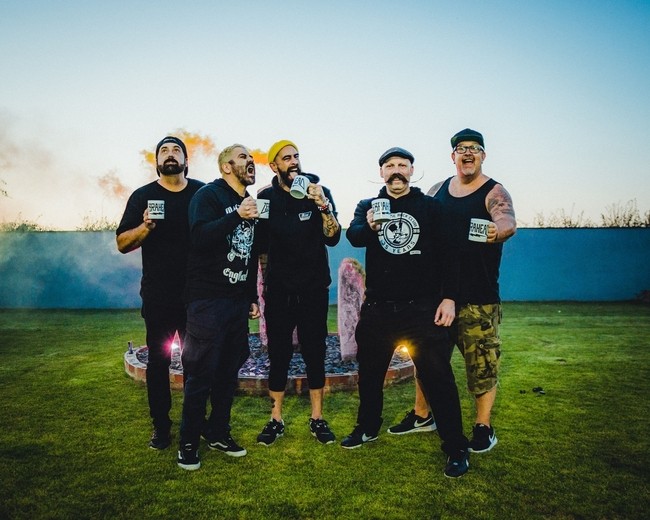 The rebellious spirit, unyielding work ethic, and all-around good time is alive and well for the Orange County, CA-based punk-inspired rock outfit. Hitting the ground running with their new singer and guitarist Adrien Estrella the band just returned from the UK's SlamDunk Festival and are putting the finishing touches on their forthcoming EP III out on November 26.
Punk rock mainstays zebrahead are vocalist/rapper Ali Tabatabaee, vocalist/guitarist Adrian Estrella, bassist Ben Osmundson, drummer Ed Udhus, and guitarist Dan Palmer. In July the band debuted the single, "Lay Me To Rest" their first to feature newly recruited Estrella. About the song Wall of Sound said, "Featuring high-energy riffs meshed together with Estrella's softer, melodic-sounding vocals makes for a renewed sound for a legendary punk band that's been making the rounds since the 2000s. It's an exciting road ahead for the band, that's for sure."
Excited about their new chapter, today they are releasing the song and video for "A Long Way Down."
Stream it here:
https://listen.lt/ZebraheadALongWayDown
When asked about the song the band explains, "We have been blending hip hop and pop-punk for nearly 25 years and it's amazing to see how big that genre is now. "A Long Way Down" is a perfect combination of heartbreaking melody and high energy rap," says Osmundson. Tabatabaee adds, "A long way down is about being stuck in a toxic relationship because you feel like you don't deserve better. You settle for what's in front of you rather than go for what will truly make you happy." Estella chimes in, "even though the feelings might be there, it's best to walk away and find your true counterpart."
Since their incarnation zebrahead has shared highs and lows, sold over 2 million albums to date, and currently have 1.25 million monthly listeners on Spotify, they have survived label changes, earned a Grammy nomination from a collaboration with Motorhead, and through it all nonstop touring ensued across the globe.
Zebrahead continues to bring their distinctive sound to the masses with a new member, new music, and lots of touring.