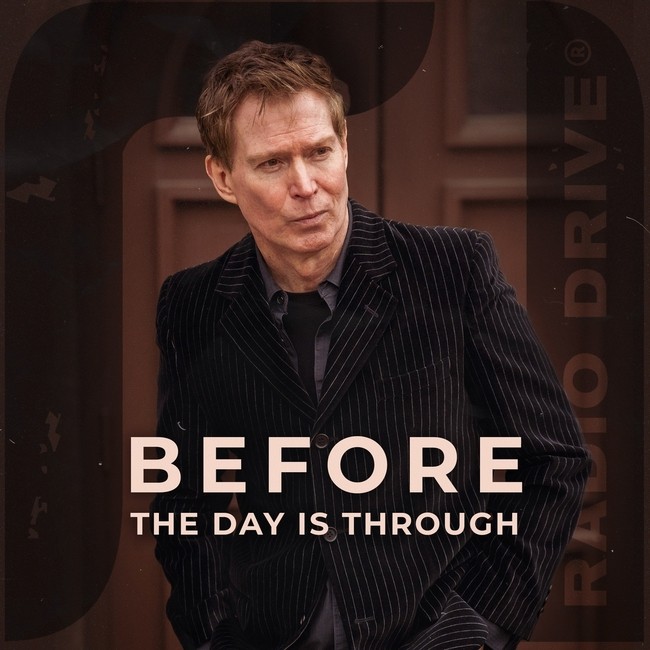 Kevin Gullickson is no stranger to the indie music scene. As an award winning songwriter and the engine behind the alternative rock band, Radio Drive, now signed to 12 Story Records, he is pumped to announce a new album titled "Before The Day is Through".
In past years, Kevin has worked with Producers and Engineers who have worked with some of the biggest names in rock music. Gene Paul, Grammy Award winning producer who worked with The Rolling Stones, Led Zeppelin, U2 and Eric Clapton. Producer, Stuart Epps, whose worked with George Harrison, Oasis and Elton John. Academy Award winning and Grammy nominated Producer, Robert L. Smith, whose credits include David Bowie, Paul McCartney and Aerosmith. For this latest album, Kevin has teamed up with Grammy Award and Academy Award winning Engineer, Brendan Dekora, whose credits include Foo Fighters, Nine Inch Nails and Billy Idol.
"This album by far has been my most ambitious project to date", said Kevin. "With the pandemic causing musicians to stay inside, I was fortunate to have my own recording studio to squirrel away during this time. I had the time to really work the songs. I spent more time on this album than any before".
Kevin connected with studio musicians from around the world to work with him on this album, all through an online community called Airgigs. "I've been using Airgigs for awhile now, but really tapped into the available talent on this last album. I wanted to do it right and have real strings, some back ground vocals, and a studio drummer. I was fortunate to work with some amazing talent from around the world. I'm so impressed with what they contributed to the song". To put it all together, Kevin worked with Brendan Dekora to mix and master the tracks.
Kevin was immediately drawn to Brendan, having learned he won a Grammy Award working on a Foo Fighters album. "I absolutely love the Foo Fighters", said Kevin, as he listed them as one of his musical influences along with Led Zeppelin, The Beatles, U2 and Coldplay. "The Foo Fighters have amazing guitar sounds, arrangements, melodies, and so much energy".
Kevin's momentum for winning awards and nominations continues with his latest album. Even before its release, two songs from the upcoming album have won awards and nominations. "The Other Side" is nominated for Best Rock Song by the Hollywood Music in Media Awards -and- "In My Dreams Tonight" was awarded Top Finalist for Best Alternative Song by the World Songwriters Association. "I'm really pleased with that", commented Kevin on these latest achievements. "I'm so grateful for all the recognition".
In August of this year, Radio Drive won Best Music Video Bronze Award by the International Singer Songwriter Association. The nominations keep coming, as Radio Drive has been nominated for Best Alternative/Rock Band by the International Red Carpet Awards in Holland, Europe -and- Kevin is nominated for Best Alternative/Rock Songwriter, with the ceremony scheduled for August 28th.
To coincide with the album release, five music videos are already in production to be released over the next few months. When asked about doing any live shows, Kevin replied by saying, "With the pandemic still stirring up uncertainty, I'm holding off on doing any live shows. Instead, I'm excited to team up with a few indie stations that have been a huge support of Radio Drive, and we'll be doing album release shows". The first of which will broadcast live, on Sunday night Sept 12th at 10pm EST, Kevin will be special guest on Eye On Jamz Radio with host Tim Broad. Another album release show will be broadcast on the NetFrance Radio Network to over 800 stations throughout Europe. Stay tuned to Radio Drive's social media for more details on that.
"Before The Day is Through" is now available for pre-sale through iTunes from August 27 through its release date of Sept 10, 2021. Not only will you be able to pre order at a discount, but you'll be able to immediately download three award-winning songs from the album. Here is a link to pre-order now at a special discount:
https://music.apple.com/us/album/before-the-day-is-through/1577954010
About Radio Drive:
Radio Drive is an Alternative Pop Rock band featuring Kevin Gullickson. As the engine behind Radio Drive, Kevin has won international awards and nominations for his music. His songs have been aired on radio around the world alongside major artists and has topped indie charts and received rave reviews. He has been featured on web zines, podcasts and radio shows. Kevin's music has been used on shows airing on NBC channels, Animal Planet, National Geographic, Comedy Central, Fox Channels, History Channel, Spike TV and Discovery Channel in the USA and TV programs around the world.
Follow Radio Drive online at:
Website: http://www.radiodrive.net
Facebook: http://www.facebook.com/radiodrive
Twitter: http://www.twitter.com/radiodrivemusic
Youtube: http://www.youtube.com/RadioDriveMusic
Instagram: http://www.instagram.com/radio_drive
Spotify: https://open.spotify.com/artist/5JZELlsigjpKLVji8J1n3e