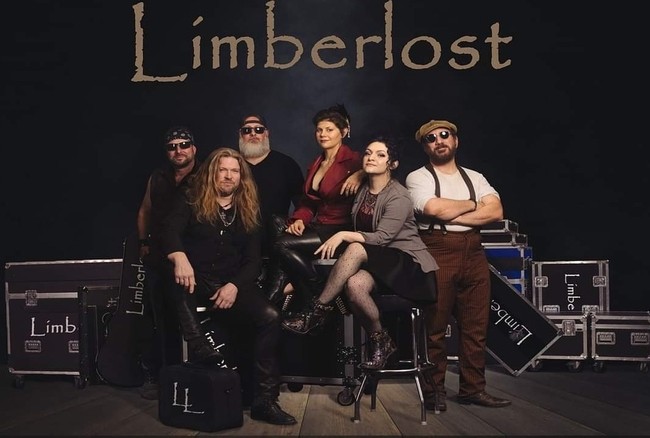 On the heels of five, back-to-back hit singles, including "Setting Sun," which Music Indie Plus hailed as a "heartbreaking scorcher," award-winning, female-fronted rockers Limberlost have found themselves, once again, at the forefront of the music scene as they unveil details for their much-anticipated sophomore album and U.S. national tour.
Good Fight, which features all five previously-released tracks, plus three never-before-heard songs, is available now on all DSPs, just in time for the band's 13-date "Good Fight Tour."
The album, which follows Limberlost's successful 2018 debut Limberlost Vol.1, is described by Drummer Mike Burt as "energetic, melodic rock with powerful, soulful vocals, captivating hooks, deep grooves and classic rock undertones." Burt says their sophomore effort embodies a more mature and diverse sound, with more lyrically-driven songs and complex melodies, and even a few cover songs as an added bonus.
This is the first record featuring the sextet's current lineup. "We really expanded ourselves creatively and musically with Good Fight," said Burt. "Krystle (Pyette)'s crushing vocals and Brittany (Lauren)'s mesmerizing harmonies are amplified 10-fold on this record thanks to the heavy-hitters we now have in place for the band. This year brought out a lot of emotion in all of us and we wanted to convey it in a meaningful way through our music. Our mission was to show our fans that were all in for a good fight – no matter what life throws at us."
The "heavy hitters" Limberlost has enlisted include such musical stalwarts as Guitarist Ricky Dunn, Bassist Ben "Thor" Beman, Keyboardist Anthony Ciarochi, and Burt on drums. Recorded at Crash Bang Booom Productions, all original songs featured on Good Fight were produced and engineered by David Smith with the exception of the "Good Fight" and "I'll Stand By You" singles, which were produced by Timothy Eaton, mixed by Jakael Tristram and mastered by Ric Vaughn.
– https://open.spotify.com/album/51aeTbzVIZNxYjaouBShAw
The official tracklisting for Good Fight is as follows:
The Real Thing
Good Fight
I'll Stand By You (Written by Thomas Kelly, Christine Hyde, Billy Steinberg)
See What You Want (Features Cirke Cherokee on backing vocals and Raymond Hayden on keyboards)
Setting Sun (Written by Wayne Perry and Tommy Barnes)
Remains
Jolene (Written by Dolly Parton)
In The Garden
Limberlost will be supporting the release of the new album with the "Good Fight Tour," which kicked off Friday, August 6 in Lewiston, ID at the Snake River Rock Festival and is currently crisscrossing the country playing at such esteemed venues as the Hard Rock Las Vegas, Pub Rock in Scottsdale, AZ and many more.