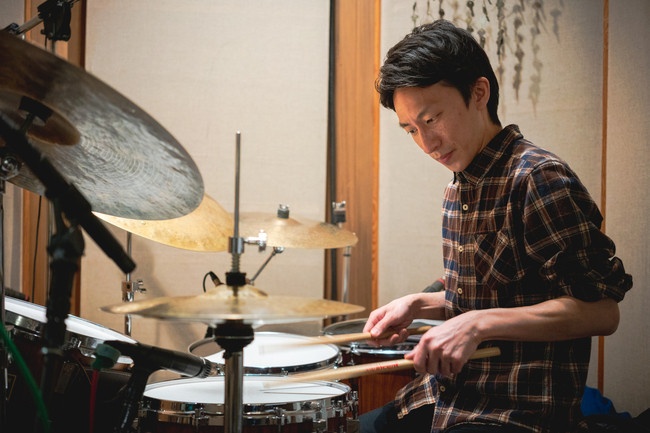 As a drummer, when you compose pieces, do you start with the rhythm or the melody?
I usually start with the melody or the harmony. The rhythm rarely comes up to my head first. I guess that's because I grew up listening to my mother's piano playing. My mother is a classical pianist and father is a drummer. Even though I started playing drums at a young age, I was always listening to the sound of the piano for most of my childhood since she was giving piano lessons to many students at my house and also she was practicing many classical music, especially slow and gentle ballad type tunes from French classical composers like Maurice Ravel, Claude Debussy. So having been listening to those piano sounds makes me focus on the melody or the movement of harmony rather than the rhythm.
Do you play other instruments besides percussion, and do you compose on any of these?
I play piano for composing. When I compose music, I always try to find a new harmony or melody that makes me feel refreshed and also makes me interested in everytime I hear it, even if it's my tune. I also feel playing piano makes my musical ear different because I hear music differently after I spend time on playing piano for composing. I feel it even when I play the drums. It's like watching the music from above and capturing the whole image, not just the drums.
What is the significance of calling your album Start?
I think it's a good combination of the essence from New York contemporary jazz and European style jazz which I was influenced by a lot. I remember I was more interested in modern, contemporary jazz than classical swing, bebop style when I got into jazz in my teenage years. Especially contemporary jazz by the jazz musicians in New York in the 2000's. Also I liked to listen to jazz from Europe, especially the music from the German record label "ECM". Many American jazz musicians had released their albums from this label: Keith Jarrett, Chick Core, Pat Metheny, and more. I got to know this record label from those American jazz musicians, and I was able to discover many other great European jazz musicians: Kenny Wheeler, Jan Garbarek, Eberhard Weber. Since I loved American modern, contemporary jazz and European jazz, I always wanted to blend those styles. In my album "Start", I tried to combine those two styles into one to make my ideal style of jazz. The style has an interesting and refreshing harmony and rhythm pattern from New York Contemporary jazz, and also has a dark and cool ambiance from European style jazz. Also when I recorded this album, I was living in New York for four years and I wanted to make my music into shape because I spent a certain amount of time and was able to have great musical experiences there.
– https://open.spotify.com/album/6azxjcbJuuKeoVS06QrUJa
You recorded Start with two other musicians. Are these your regular band, or are they studio players?
They are my regular band members. When I played with them for the first time, it felt really comfortable and the music just flowed everywhere. After that, I jammed with them many times to make this trio sound better and tight. I enjoyed every minute of it. Noah MacNeil, who played the piano in Start, has a great delicate touch on playing piano. His piano sound is so gentle and colorful that the music shows us beautiful views that we have never seen. Also his supportive musical style contributes to my music a lot even though he has great piano technique and could show off his skills. Yoshiki Yamada, who played uplight bass in this album and is also from Japan, is my musical buddy. I think he is one of the few musicians who has a very strong musical foundation such as keeping time, playing the right notes at the right time, reading music, listening to others, at a high level. Since he has those strong foundations, I can play anything and go anywhere because he would make anything musical. He also taught me that if you have solid musical foundations, you can be a good musician no matter where you were born and where you were from. I can say that these guys are also the reason why I recorded my album.
"Guy in Rage" is the most noteworthy song title on the album. What inspired this title?
For this tune, I was inspired by my younger brother. He is a kind, calm and quiet person basically. One time, he got really angry when we were kids. I don't remember why he got so mad, but he was throwing toys at me and watching me with an angry face. It was kind of a shocking moment to me to see my calm brother being so angry. When I started composing this tune and hearing the harmony and the melody, my angry brother came to my mind, so I titled the tune "Guy in Rage". Maybe It's too much for the song title but I want the title to be more interesting.
Growing up, how big was American jazz in your community?
It was pretty big, especially for the Japanese jazz community. Of course there are many great jazz musicians in Japan, but I'm sure all of them were listening to American jazz and legendary American jazz musicians such as Charlie Parker, Dizzy Gillespie, Miles Davis, John Coltrane, Bill Evans, Herbie Hancock, Chick Corea, Michael Breaker to learn from the masters and to be a better musician. Also many young Japanese jazz musicians are eager to check out American jazz musicians from younger
generation such as Robert Glasper, Chris Dave, Vejay Iyer. So I can definitely say that American jazz is much bigger in my community than every American thinks.
Who are your percussion heroes?
My first percussion hero was drummer Harvey Mason, who is a famous studio musician in the west coast area. My father was a big fan of him and he used to play many jazz records that Harvey Mason played. As I listened to his drum playing constantly, he became my first drum hero. I really liked listening to the records from the band he was playing called "Fourplay". I also loved the legendary album that he also played titled "Headhunters" by Herbie Hancock. My next drum hero was jazz drummer Jack DeJohnette. I think I got to know his name from the record titled "The New Standard" by Herbie Hancock. Then I also found out he was playing with Keith Jarrett Trio and I listened to their CDs and watched DVDs a lot. I was really fascinated by Jack's drum playing because he plays the drums in a very unique way. His drum playing doesn't sound like a drummer at all. Feels like it came from a different place. I guess that's because he was already an amazing pianist before he started playing drums and that made his drum style very unique. Tony Williams is also one of my all time drum hero. He is known as a drummer for Miles Davis Quintet in 1960's. My first drum teacher played the record that Tony played titled "Four & More" by Miles Davis Quintet during my drum lesson, and I was freaked out. He was only 18 years old in that record and had created a totally new style of jazz drumming. Also the way he plays music was truly innovative. I believe he totally changed the history of jazz drumming.
Which artists most inspired you as a composer?
The first artist that came to my mind is an American composer, John Williams. He wrote many great film scores for the movies such as Star Wars, Jurassic Park, Jaws, E.T., Harry Potter, Indiana Jones. Before I got into music, I always liked watching movies and I always loved John Williams's music. His music is so identical that everyone would distinguish the movie once you hear his music. Once you hear his music, it stays in your head and it means his music is really powerful. I think that that makes him one of the greatest American composers in history. Alan Silvestri is the other artist that came to my mind. He is also an American composer and wrote many amazing film scores such as Back to the Future, Forrest Gump, Contact, Cast Away, The Avengers from Marvel movies. He has composed so many films from minor to major films and his music always supports the movies from underneath and grabs the audience's attention into the movie without keeping his identical sounds. His music would fit any type of movie like cameron. French classical composer Maurice Ravel is also the artist who inspired me. I had been listening to his music without knowing since when I was a kid because my mother used to play his music. After I started listening to his music when I became an adult, I noticed how beautiful and sophisticated his music is. Every time I listen to his music, it makes me think how important it is to make the melody simple. Especially when I listen to his piano concerto in G major, 2nd movement.
Did the players on your album Start assist with the compositions on it at all?
I composed four songs, pianist Noah MacNeil composed two songs, and bassist Yoshiki Yamada composed one song in this album. I included their original tunes because I wanted my album to be more colorful and to have different taste rather than filled with just my compositions.
Are you strictly a jazz player and fan, or are there other styles you also like to play or listen to?
I love playing and listening to other styles of music very much. Before I started playing jazz, I was playing more fusion, funk type of music so those are still my favorite style of music to play. I was also playing Rock, Pop, Gospel music in church and had opportunities to play in a latin big band after I started playing jazz more seriously. Great thing about playing jazz is that everyone is able to play differently at the same time and is able to provide new ideas every moment and make music totally different every time. It's always fun for me because I don't know what happens next but also playing other styles of music always opens my eyes because every style of music requires different unique skills and mindset. That's something that I wouldn't be aware of if I only played jazz. I also listen to classical music and film music a lot and those made a huge influence on my compositions. Listening and playing other styles of music always refresh my mind and make a great influence on me as a jazz musician.