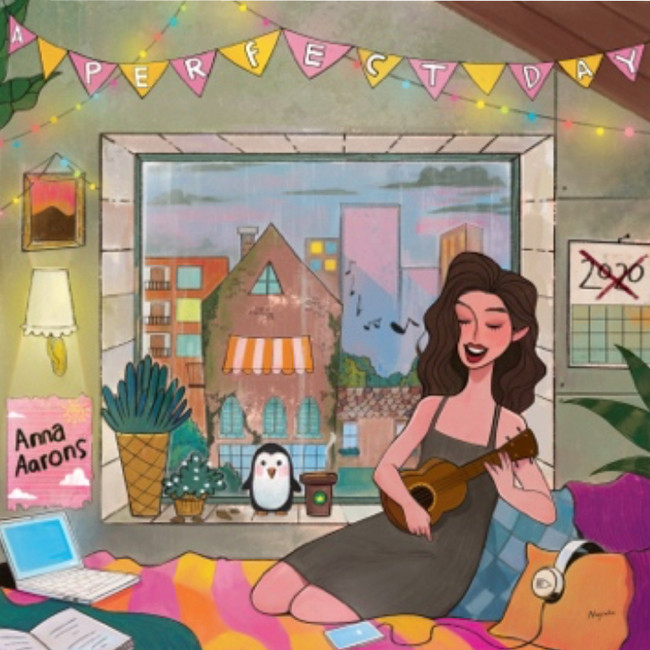 "I'm walking way above cloud 9, making my own sunshine" is the opening line of "A Perfect Day", a feel-good happy song performed by London singer songwriter Anna Aarons. This positive upbeat track, written by Dean Adams and Nick Moxsom, is out now via Cute Spider Records and distributed by Horus Music.
Fusing lively cumbia with reggae beats and the most gorgeous ukulele sounds, Anna Aarons delivers a pick me up song that gently lifts everyone's mood into a happier space and blows away the worries of the day to day. Her nonchalant vocal style appeals with her casual directness coupled with sensual melodic finesse. Gentle yet infectious reggae beats add a bounce to everyone's step. The catchy singalong chorus perfectly expresses the universal mantra to happiness: "everything is A-OK, oh what a perfect day".
Anna Aarons specialises in a brand of commercial yet authentic and soulful indie-pop. Her distinctive voice is partnered with dynamic bass, driving percussion and jazzy electric guitar on her last single 'Words' and previous offerings 'Her' and 'Since You Went Away', both of which celebrate female figures in Anna's life. In her music, she has conveyed her sanguine ability, touching on dark themes such as grief in the lyrics and uplifting them with jazz-threaded kinetic production.