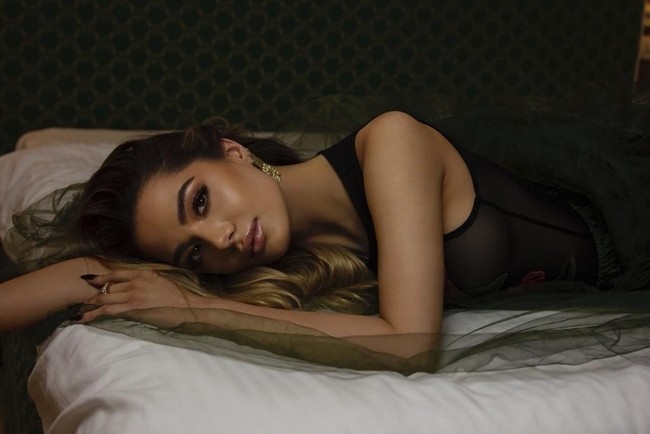 Romanian-born and Los Angeles-based Pop / RnB Songstress, Airyen Vay, just releases her visually stunning music video her recent release, "Love Me Like You're High", and begs for us to just watch on repeat.
Ornamented with pentatonic scales, strong vocals, and vibrato trills that glow in evocative emotion, "Love Me Like You're High" depicts the intensity of an old memory at the height of the emotional rollercoaster that is love, as well as the intense pain of a breakup, where the protagonist (Airyen Vay) is almost willing to let go herself just to make the relationship work once again.
With a melancholic theme, the music video touches upon the tender moments shared with past love. Looking for validation that she's still important, and even though alone, the video crescendos to the realization that what was missing wasn't a failed relationship but rather her own self-love lost. Highlighting the choices, memories, romance, intimacy, and vulnerability, Airyen Vay shines with a soulful and emotive voice, visually showcasing the sensitivity, the kindness, the needs, and strength of womanhood.
– https://open.spotify.com/track/2rJsseX8w86QsNcF57jpK9
ABOUT AIRYEN VAY:
Born in Botosani, a small town in the northern part of Romania, Airyen Vay discovered her passion for music at an early age where she started to take vocal lessons and learn piano, flute, and guitar. Throughout her early studies, she entered numerous song contests and winning most of them with her powerhouse natural vocal ability.
With a slow piano on top of an upbeat tempo, all shaped in a romantic light, Airyen's music evokes the feeling of liberation as it drives the listener within a world where you can be anything you ever wanted. As a child of the Winter Solstice, Airyen Vay translates throughout her music the warm vibes of her adoptive city, Los Angeles, into the themes of love, equality, human rights, freedom, and togetherness.