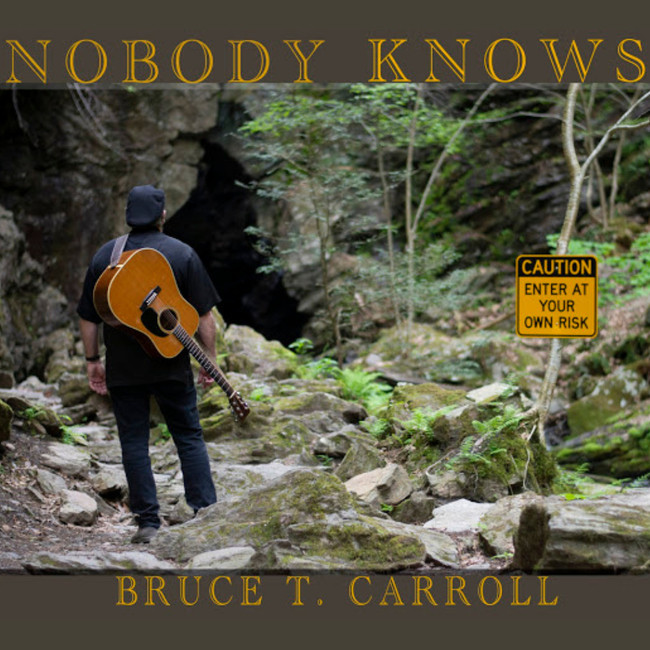 I'm not sure how many people, at this point, are aware of Bruce T. Carroll's songwriting abilities, but after hearing "Nobody Knows", I am certain that many more people will know just who Bruce T. Carroll is. Bruce actually wrote this new song while driving around the country, so literally many miles put in toward the making of this recording. Hearing about this driving & writing excursion process, it comes as no surprise to me that "Nobody Knows" does display an earthy & organic texture.
All the lyrics and music can be attributed to the talented singer/songwriter who goes by the name of Bruce T. Carroll. "Nobody Knows" is the featured single off of Bruce's upcoming album titled 'First Bird To Sing'. Fans and listeners alike can expect to hear the full-length album come September 01, 2021, but for now enjoy this gem, "Nobody Knows", that Bruce has so kindly provided us merely for our listening enjoyment. One exciting aspect worth mentioning is that anyone out there can get involved with the making of the new album through a fan-funding project Bruce has in place. Be a part of the recording experience and help Bruce T. Carroll create magic in the studio!
Back to the new single, "Nobody Knows", I am simply hearing a lyrically sound track that offers a wonderful melody. Bruce comes across as a true storyteller on "Nobody Knows" where the audience will be captivated by each verse. This single plays out like a book with many interesting chapters and all sections being genuine articles in nature. One will hear a catchy 'n' caring chorus line along with solid 'n' steady instrumentation. Bruce T. Carroll performs with much confidence on "Nobody Knows" and the listener will sense this element.
"Nobody Knows" what the future holds but one thing is true and that is that Bruce T. Carroll has a well-written song in his hands. I was impressed with the overall musicianship on this new single as the professional quality comes through loud & clear. If you're a fan of good, story-telling folk music then you have to check out Bruce T. Carroll and "Nobody Knows". You won't regret it!
By Jimmy Rae (https://skopemag.com/?s=Jimmy+Rae)