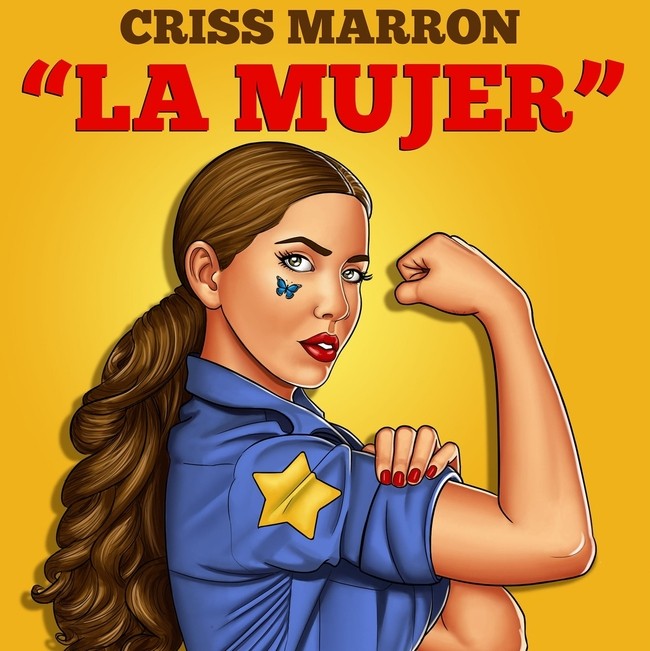 by Nick Christophers
It is a refreshing feeling to discover an artist with the mentality that there is no such thing as borders in our world. Coming from a country that had a history of alienating others she welcomes everyone to her music regardless of their identity. Criss Marron is a native Cuban who believes we are all connected no matter the differences we may have.
This attitude is reflected in her music. Criss came from a musical family as her grandfather was a trumpet player and her mother a songwriter. Her mother wrote the official song of her hometown city Santa Clara. Criss would watch her mother write lyrics as she played the piano. These two individuals served as her inspiration to step into their musical circle. At four years old, Criss took to the piano and mastered her first notes and by ten years old was already writing lyrics and performing.
Aside from her family inspiring her she also looked up to such artists like Christina Aguilera, Gloria Estefan, Alejandro Sanz, Backstreet Boys, Alex Ubago, Beyonce, Black Eye Peas, and Celia Cruz. Her music is a fusion of Latino R&B, Reggaeton, urban fusion and Hip-Hop, with a taste of Cuban seasoning. Criss looks to present her music as a type of therapeutic element and a form of empowerment that can reach almost anyone. She tends to offer her own romantic and or tragic experiences into her songs that fans can relate to. After coming to America, she reached deep into herself and became more in tune with her culture and brought that into her music. She would sign on with Y.L.S. Entertainment Group in NY and began releasing some singles.
In 2019 she put out a tribute to Gloria Estefan and Bolero Cubano with the track "CON LOS AÑOS QUE ME QUEDAN". This was only the beginning of what she was due to create in her growing career.
"The Gloria Estefan tribute was born from the wish of honoring someone that prepared the stage for Cuban artists to be heard. I think her career was amazing and was inspired in her song to also, post it as a dedicated gift to my mother during Mother's Day, which was the date the cover was released."
One of her hot tracks now is the song "LOQUERA ft. Bobby the Dog" which was produced by See See Beats and Criss the video was directed by Unchained Creatives. That specific track Criss was trying to find a Dominican character since her idea was fusing slightly Cuban afro vibe with Dominican Dembow and reggaeton. The label would introduce Criss to Bobby and he fit the mold and a bond was made to produce the track. The video for the track has reached 400 thousand views on You Tube since its release in February 2021 and seeing an amazing response from countries like Colombia, Argentina, and Chile.
On the horizon is her new single "La Mujer" which is due out on July 23rd. This specific track is intended to honor her Cuban musical roots mixed with Hip Hop. Like her typical message to her fans the song is meant to uplift, empower, and put women together on the mission to play a bigger role in and for society. Her main goal now is to release a full album by the end of 2021 with an uplifting Latin sound for all to enjoy. You can keep up to date with her music at the website below and follow her on her YouTube channel CrissMarronVevo.