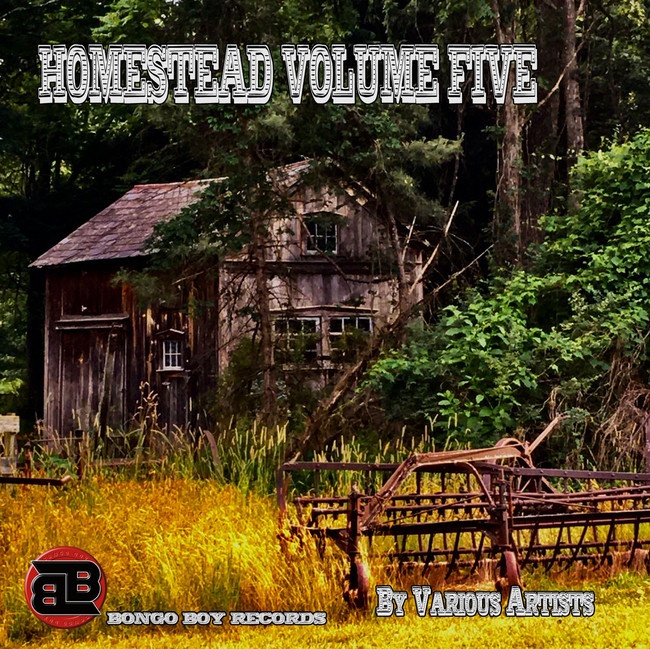 This new, 2 CD set features extremely talented artists from all across the globe sharing their gifts of music. 'Homestead Volume Five' is Bongo Boy Records' 5th Anniversary album celebrating the best that the Country & Americana worlds have to offer. This record features 20 tracks from an eclectic group of award-winning Indie artists and I have to say that I was highly impressed. 'Homestead Volume Five' by Various Artists has something for everyone!
The album starts up with a song titled "Whiskey Joe's (Feat. John Ruddle)" by E.G. Holmes and you will want to drink up this lively number from beginning to end. It's time to call it a day and consume all of the good times & cool vibes that "Whiskey Joe's" brings to the table. Next, "Harp and Plow" is digging deep with rich substance that is coming to the surface of this track. On "In Your Eyes" performed by Underground Treehouse and Michael Lusk and written by Clark Ford, the listener will hear pleasing melodies, a wholesome sound and tender sentiment. Track four, "Point of No Return", by Todd Barrow offers up catchy riffs & vocals where the song is not grim at all but quite the opposite! You will want to take the next right to "Point of No Return" where this next stop never sounded better! Blind Lemon Pledge provides a real barn burner of a song next with "Ma Bell Cherie" where it's all about dancin' your blues away and just havin' a good ol' time! Track six, "Strong Roots of this Tree" by John Edwin & The Banjodasa Hillbillies has that classic, bluegrass element and swampy effect that draws you in. "Then You Came True" by Frank Trousdell is next and his style gets your attention right away by way of appealing vocals and well-written material. Track eight, "Always Be Here for You", by Point Taken comes equipped with a slowed-down rhythm, heartfelt lyrics and bright notes. "Already Gone" by Pete James is a song with a short but sweet message. The final track on Disc 1 drags on perfectly heading down the long and winding road en route to "Workin Joe Whiskey" by Ray Materick. Materick proves to be quite the storyteller here as this tale about "Workin Joe Whiskey" comes to life right before your ears.
Side 2 of 'Homestead Volume Five' continues with grand storytelling by Junior Burke with a wonderful song called "Coming Home From Shiloh". Next, we hear "Yeah, That's Me" by Point Taken that hits you with a BIG sound and has a real punch to it. Track three, "What the Cat Dragged In", by Norman Collins & The Tumblers brings a real funky twist to the mix with a fan-friendly buzz in place. Next, John Edwin & The Banjodasha Hillbillies break out the banjo and you will hear them roar on "I Am a Lion". Take a BIG bite out of "I Am a Lion" and reel in this keeper of a tune that contains an overload of lighthearted lyrics. Get ready to switch gears with "Alanna the Harvest Queen" by Frank Trousdell where you will embrace this soft 'n' sensitive song in all its glory. Track six, "Carolina Kiss", by Blind Lemon Pledge will warm your soul with its positive aura while adding in a stellar arrangement. "Let Love Shine (Feat. Joe Cerisano)" by Gar Francis is shining bright here, there and everywhere and you can feel it in your musical bones. Next, prepare to reflect & recollect on "Just Life" by Greg Guba as you're receiving Guba's personal life lesson. Track nine, "I Can't Imagine", by Pete James gives off a soothing sensation that is pleasing to the ears and one enjoyable, listening experience. Disc 2 is complete with an ideal ending where everything comes full circle on "Through the Years" by Ray Materick. "Through the Years" is touching & meaningful where the material hits home and hits you inside.
'Homestead Volume Five' by Various Artists is a true joy to listen to and I have even more respect now for the Independent, Country/Americana music scene. These artists brought their A-game on this 2 CD set and prove that Country/Americana music is stronger than ever. You can stream this Bongo Boy Records release right here: https://bongoboyrecords.hearnow.com/homesteadvol5 and you can also purchase a copy on Amazon: https://www.amazon.com/Homestead-Vol-5-Various-artists/dp/B0948F88QC/. 'Homestead Volume Five' by Various Artists is down-home playing at its finest and I promise that you will not be disappointed.