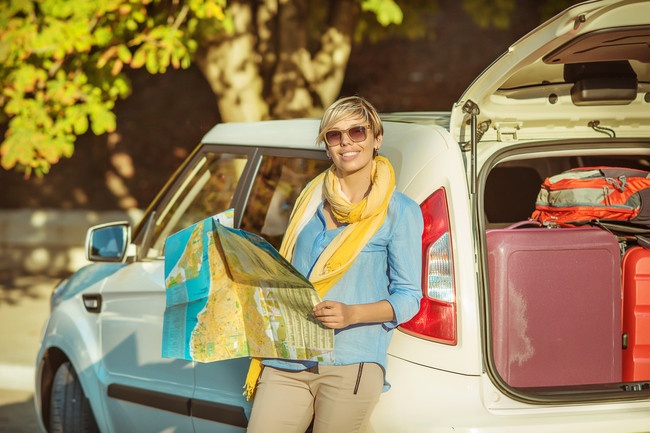 If you dream of going on vacation, you probably dream of traveling to some far-flung location. Maybe you love a good cruise, or you want to backpack through Europe? Vacations like these are wonderful, but don't make the mistake of thinking it's not worth going on vacation unless you spend hours in the cabin of an airplane. There are a lot of great reasons to spend your vacation a little closer to home instead!
Cool Destinations Are Closer Than You Think
There are a lot of amazing destinations in the world. Don't get stuck thinking that they are all hours or even days away from where you live. Chances are there are some cool destinations closer than you think!
For example, if you live in the Midwest, you're only a few hours away from Branson, Missouri. With dinner shows, water sports, a theme park, and more, it's a great destination that doesn't require you to hop on a plane!
A few other destinations that may be closer to home include:
Galena, IL

Mackinac Island, MI

Camden

,

ME

The Black Hills, SD

Chattanooga, TN

Door County, WI

Coeur d'Alene, ID
You Can Go More Often
Planning an overseas vacation is no easy feat. Even traveling halfway across the country requires a lot of planning. If you're lucky, you can plan a vacation like this once a year. Other families may come to realize their dream vacation is a once-in-a-lifetime event.
There's nothing wrong with planning a big blowout vacation, but if you want to take time off more often, you should plan smaller vacations closer to home. When you don't have far to travel, you can take a long weekend every couple of months instead of planning a week or more every year or two. Not only is going on vacation more often a lot of fun, it may actually be better for your mental health!
You Can Return Home More Easily
Leaving everything at home and work sounds great, until the time comes and you're actually away. Whether you're planning a vacation without the kids or you're worried about leaving your new business in the hands of someone else, going far away can be overwhelming.
When you vacation closer to home, you can return more easily. Whether your youngest child ends up in the emergency room or your business has the potential to land its first big client, you have the option of packing things up a little early and returning home a lot easier when you're so close to home.
You Can Travel On Your Schedule
Flying is a convenient way to travel. When you're traveling far from home, chances are, you'll find yourself on at least one flight. The trouble is, it can also be stressful because you're on someone else's schedule. You have to show up to the airport hours before your flight departs, wait in uncomfortable waiting rooms, and run through the airport to make it to your connecting flight on time. Missing your flight can make things even more frustrating and stressful!
When you vacation closer to home, you can travel on your schedule. You can decide when you're going to get up and leave in the morning, you can stop whenever you want for a bathroom break, and you can take any route you want.
You Can Spend More Time Vacationing and Less Time Traveling
To some, the journey is part of the fun. The rest of us just want to get there already! If you want to spend more time actually on vacation and less time traveling, you should definitely stay closer to home.
This is especially true if you don't have a lot of time to take a vacation. If you spend a day or two hopping on airplanes and you only have a day or two to spend on vacation, you may find yourself worn out when you return home. Instead, spend just a few hours in the car so you can spend the rest of the time relaxing and having fun.
It's Environmentally Friendly
Traveling can be terrible for the environment. Flights are the worst when it comes to CO2 emissions when you also account for secondary effects. One flight from London to New York emits 0.67 tons of CO2 per passenger, which is the same amount of CO2 that is produced by a person living in Ghana for an entire year.
Driving is much better, especially if you're traveling with others. For example, a car trip with four passengers is better than driving on your own, while taking a train or the bus is even better. When you stay closer to home, not only can you avoid the stress of taking an airplane, you can also feel better knowing you're impacting the environment less.
It's Cheaper
One of the most convincing reasons to take a vacation closer to home is the fact that it's almost always more affordable!
Of course, it does depend on your destination, your accommodations, and what you choose to do, but with less money spent on transportation, you'll automatically save. For example, a four-day domestic trip costs Americans about $630. You can plan to spend $3,538 if you travel internationally. You'll save even more on hotel and activity costs if you choose a destination that's off the beaten path.
When you stay closer to home and choose less popular vacation destinations, you can use the money you save to make your vacation extra special or simply pocket it for your next vacation.
By all means, plan that dream vacation and take it whenever you have the money and time, but don't discount smaller vacations that are closer to home in the meantime. From getting to go on vacation more often to spending more time doing what you want to feeling good about your trip's impact on the environment, there are lots of convincing reasons to look for a fun place to stay that's just a short drive away from home.