Mars Hall's sound may be an admitted throwback to 80s hard rock, but the group's album, Is Anybody Out There, is packed with strong songs – whether considered retro or not. From looking at their group photo, it's clear these guys aren't kids any longer. Therefore, the songs they write are written from the perspective of lived experience. For example, the power ballad, "Falling Apart," with its acoustic piano intro, speaks about emotional collapse. However, one imagines there's also now a physical aspect to that feeling of diminished capabilities. Then with "One Chance," vocalist Perry Stephen Polito admits to waking up and seeing lines on his face in the mirror. He knows he's not getting any younger, which means he has less and less time to make his dreams come true.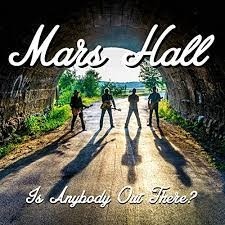 Two songs on this consistently good album especially stand out. One is "Overkill (The Ballad Of Sid & Nancy)," which references the tragic lives and deaths of two punk rock icons. Although it's slightly slow, it's not exactly a ballad. And while it points back to a Sex Pistols' doomed romance story, it also sounds much more personal than historical. Another particularly notable inclusion is "Eleanor Rigby," which is obviously a cover of a Beatles song. This may well be the saddest Beatles song they ever wrote and recorded. It's a series of verses about "all the lonely people." The Beatles wrote this at the height of their popularity. The fact that they had the insight to think about the lives of those living 'outside the margins,' if you will, is a testament to what smart and thoughtful songwriters they truly were. The Beatles' original recording of this song stood out then because of it featured string quartet accompaniment – novel for a rock band at the time. The band's producer, George Martin, had plenty of work experience recording classical music, so he was drawing upon some of his already established skills when he tracked this one with the Beatles. In contrast, Mars Hall recorded the familiar song with a straight-forward hard rock arrangement. Surprisingly, it works just as well as a rocker. It takes audacity to revisit a classic rock song – especially one originated by, perhaps, rock's most iconic band. Mars Hall pull it off, though.
STREAMING:
https://marshallrock.bandcamp.com/
The album closes with its title track. Oddly enough, it features a lyric that contemplates the possibility of life on other planets. It raises plenty of deep, philosophical questions, such as whether there's a heaven or hell, for example. Unlike the original hard rock acts that inspired this band, this group is dead serious about very serious topics. Mötley Crüe may have been obsessed with girls, girls, girls, but Mars Hall is more concerned about the meaning of life. It's a contrast that's striking.
https://www.instagram.com/mars_hall_rock/
It's fun listening to a collection of songs that sound like one thing but turn about to be something completely different once you delve beneath the surface. Is Anybody Out There by Mars Hall is just such a surprising listening experience. One other particular song, titled "You've Got No Soul," exemplifies this act's deeper intentions. When Mötley Crüe sang about girls, girls and more girls, they only cared about female physical attributes. These girls may have, in fact, been soulless, for all they cared. These vintage Sunset Strip rockers didn't have time for all that. Mars Hall, thankfully, take time to look beneath the surface of life in order to artfully explore what's there and attempt to better understand human existence.
-Dan MacIntosh