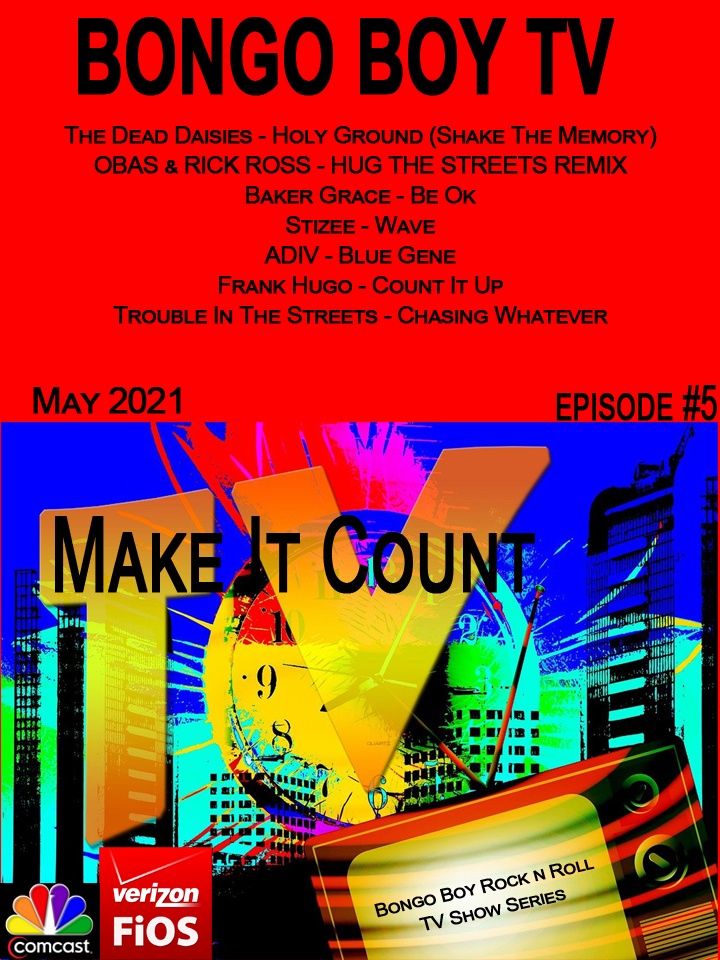 Bongo Boy Rock n Roll TV show series is proud to bring to you seven amazing music videos by talented artists from all around the world. These featured artists are included on Bongo Boy Rock n Roll TV's latest installment of "Make It Count". Episode 5 of Season 10 is on fire and all seven acts on the show are definitely making every last note count!
The first video shown is by The Dead Daisies performing their song "Holy Ground (Shake The Memory)". Right from the beginning, I am hit with a hard-rockin' adrenaline rush that never quits! Add in shredding chords on guitar and rocktastic vocals and you have yourself The Dead Daisies giving a glass-shattering performance on "Holy Ground (Shake The Memory)". Next, the viewers/listeners will check out OBAS and Rick Ross delivering the hype on "HUG THE STREETS REMIX". This track offers a slick 'n' smooth street swag that is in full effect plus "HUG THE STREETS REMIX" also gives you tight rhymes & one slammin' hook. "HUG THE STREETS REMIX" is hype that you most certainly can believe in. Baker Grace graces us with her presence next with her video/song for "Be Ok". I am hearing a soothing tone and pleasing melody on "Be Ok" with a pop-friendly vibe in place. Baker Grace seems to have a certain appeal about her that I feel will attract many fans out there. Get ready to the hit the club on "Wave" by Stizze as this lively rap tune will make you want to jump in and join the party. Moving along, we have ADIV on deck with "Blue Gene" that offers up a cool-as-ice flow. Get ready to clap your hands and snap your fingers to the infectious beat on "Blue Gene". Next, Frank Hugo has a super suave style on "Count It Up" and then get hit with blazing beats on "Chasing Whatever" by Trouble In The Streets.
Bongo Boy Rock n Roll TV has got you covered with "Make It Count". With such an eclectic mix of music acts and wonderful rotation of music videos, your senses will be on overload and not go dull. SKOPE out the videos here: https://vimeo.com/544100674 and check out Bongo Boy TV for more great music!
By Jimmy Rae (https://skopemag.com/?s=Jimmy+Rae)