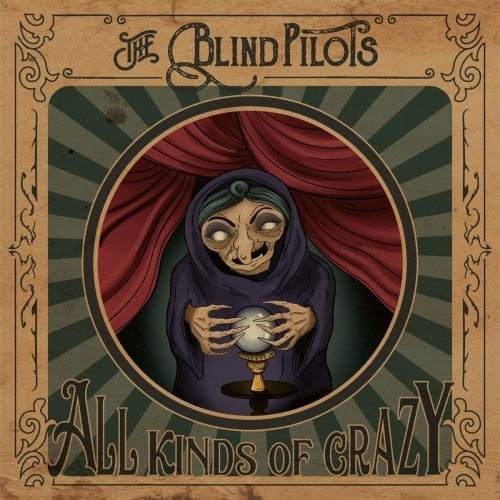 The Blind Pilots' All Kinds Of Crazy album opens with three strong dosages of amplified blues. Then the act takes a side road with "Take Me Home," which is more of an acoustic, country-ish piece. Although this latter one starts out quiet, it soon revs up to a big finish. For the most part, All Kinds Of Crazy is lotsa beautifully noisy blues.
The band brings back the sonic fire again with "Probably Think Of You," a rollicking blues rocker. Owen Mancell leads this four-piece band with his gritty vocals and electric guitar parts. Along with drummer Matt Hough, harmonica player Ryan Stone and bassist Daniel Chamberlan, this act creates beautiful, bluesy sounds.
– https://open.spotify.com/album/1pr1OvFqYkQEoNa1AtwFvr
– https://ffm.to/allkindsofcrazy
One titled "Tree On The Hill" slows the music down with a harmonica-colored track that is spooky in a blues kind of way. However, "Wake Up" speeds up the music significantly to driving hard rock, which sounds much closer to classic rock than blues.
The album opens with its title track, which is a chugging blues rocker. It's a little tough to figure The Bind Pilots' lyrical target for this one. Yes, it could be about a crazy lover. Then again, after living through a pandemic, 'crazy' could mean just about anything. If being locked down in fear of a virus doesn't make you all kinds of crazy and singing the blues, perhaps nothing will.
While blues music is The Blind Pilots general stylistic base, Chicago blues is one of the strongest, more specific influences on the act. This is especially true during "Mood Of The Dude," which matches nightclub harmonica with upfront guitar and a strong lead vocal. This one includes an electric lead guitar solo, but it is a relatively simple one. Rather than throw together a series of speedy notes, the way heavy metal guitarists do it, this solo is introduced and then doubles up its lead lines for extra effectiveness.
Although many of these songs are open for interpretation, there's no wondering what "Midnight" is about. It's about a girl that comes around – around midnight. From the sound of it, though, she's a tough girl that has a way of getting into trouble.
The album closes with "Hanging Tree," which may remind you of Led Zeppelin music, which is a band that also began with a blues base, but then took it to never before dreamed of heights. There is a lot of space in many of these tracks, which give them an unhurried, freeform feel. Certainly, Led Zeppelin was a band that never let time limitations stop them from fully expressing themselves. A song about a hanging tree is definitely a curious one. Toward the track's end, one can mainly only hear the drums, before what sounds like a progressive rock electric guitar part jumps in. Indeed, this is the album's most eclectic track, as it includes multiple melodic movements.
https://www.instagram.com/the_blind_pilots_/
This is an album that only sounds good loud. Don't dare play it quietly in the background. Instead, find the time and place when you can crank it up to 11. Even if you're not a blues fan, this album rocks more than enough to thrill classic rock fans.
-Dan MacIntosh