Although Trippy Hearts may have begun with a long-distance band relationship (spanning from Boise to Boston), the act's tightly tracked Lacewing album proves they were clearly on the same page, musically.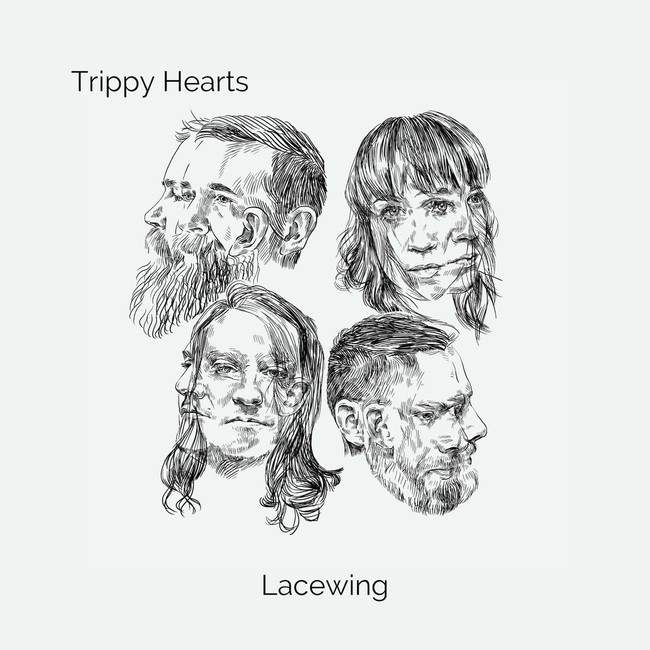 The album opens with "Flaming Gold Piano," which feels a little like a 60s blues-rock experiment. Groups like the Animals (think "House of the Rising Sun" coming to mind). It's followed by "Samskara," which has more of a 90s post-punk vibe running through it. Jenn Sutkowski's high-noted singing stands out in many places during this song, even though she also sings some of its parts in a lower register. It's very much an electric guitar driven track, instrumentally, with plenty of tasty guitar fills.
One titled "Sea Waltz" is much the way you might expect it to be, based upon its title. It's played and sung to a waltz time signature. This one also includes plenty of guitar, only these guitar parts are much quieter. When Sutkowski sings it, she sounds a bit like Leigh Nash of Sixpence None The Richer.
"Unknown" finds Sutkowski singing with an angrier tone. Its chorus includes the phrase, "Nobody knows." Sutkowski sings it as though she's frustrated and disgusted, over a buzzing electric guitar part, which saturates the mix with fuzzy lead electric guitar lines. In this instance, the band sometimes brings Jefferson Airplane to mind.
Trippy Hearts also express their quieter side with "Everywhere." Although quiet, it nevertheless is foreboding. Everything on this album is moody, in fact, at the very least. Sutkowski has a fine singing voice, but there's something about the chord structures that support her vocals, which give these songs added tension. The lacewing, from whence the album derives its title, is one of those beneficial insects that eats other bad insects – much like ladybugs. However, it's difficult to decipher how that album name applies to these songs.
STREAMING ON SPOTIFY:
https://open.spotify.com/album/1G8anw15F52jQJ0vKZK9Zj
Maybe it takes trippy hearts to create such trippy music. The result of listening to these eight tracks is how unsettling the listener feels after every one of them finishes playing. "Attic Rooms" once again matches Sutkowski's strident vocals with creative – yet equally tense – guitar notes. What's in this attic? We don't really want to know.
"Garden City" comes off like an anthem. It goes to a slow but deliberate pace. It features Sutkowski's prettiest lead vocals, where she sings over a wandering bass line and spaced-out guitar chords. It carries a mood of empathy. Some of its lyrics speak of one who is falling where nobody can catch that person. Perhaps it's the perspective of watching another suffer, without the ability to come to their rescue. There is no more helpless position than that.
Closer, "Beach Steed," opens with bass-y notes, along with chiming electric guitar. It's a long, slow intro to an extended song – six minutes long. It's a long, psychedelic workout. It may remind you of one of the many similarly lengthy Doors tracks.
https://www.instagram.com/thetrippyhearts/
Trippy Hearts beautifully create noisy rock & roll, during a time where finding such valuable music can take a little time and effort. If you've found this one, you'll be rewarded greatly for your efforts.
-Dan MacIntosh