Singing drummers may now be in vogue, but very few combine the masterful musicianship, vivid lyrics and expressive vocals one experiences with Alex Rex. In fact, few musicians have a CV as impressive as bandleader Alex Neilson. He's drummed with some of the most eclectic musicians of the international underground; from Bonnie "Prince" Billy to Shirley Collins, Jandek and Current 93. All on top of a 10-year stint with his own critically acclaimed psych-folk outfit, Trembling Bells.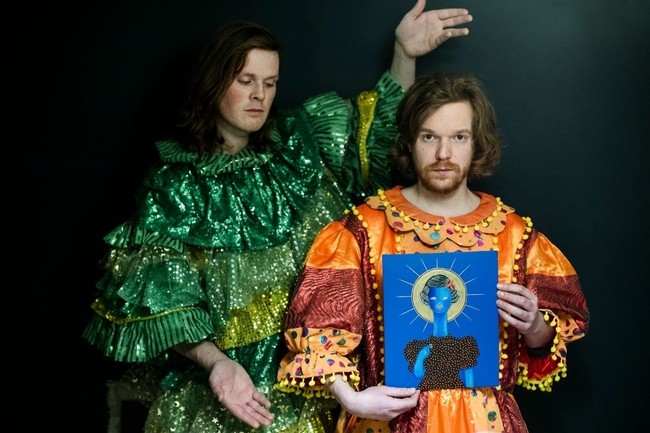 Paradise is his fourth album as Alex Rex. Whilst the first three were shrouded in loss and loathing, Paradise is a different beast. In many ways, Paradise marks a fresh start for the Glasgow-based polymath. Reunited with ex-Trembling Bells vocalist Lavinia Blackwall for the first time since the band's demise – Marco Rea (Euros Childs) and regular collaborator Rory Haye make up the rest of the Paradise party, with guest vocalist Kacy Lee Anderson (Kacy & Clayton) blowing a seductive smoke-ring through one track. Paradise introduces us to a new and uncharacteristically playful side of Alex Rex.
'What's Shouted In The Dark (The Dark Shouts Back)' according to longtime fan comedian Stewart Lee (who wrote the record's sleeve notes) "echoes both Nick Cave and Nick Lowe in an ouroboros of punk rock preacher gospel blues". Alex Neilson says: "This is a Ghost-Rock song that brings together references to Ovid and The Shangri-Las. 'What's Shouted In The Dark (The Dark Shouts Back)' is a study in homicidal love from the POV of the killer. It has a flick knife riff, pneumatic drums and themes of self-deception and destruction that impress themselves on the brain like a deranged Mount Rushmore."
Neilson can navigate the kosmische orbits of Richard Youngs, find the free music floating in Alasdair Roberts' traditionally styled songs, and conjure a stadium-sized folk-rock band that never was in the shape of Trembling Bells. But Paradise reminds us that he is also a master-of-composition in the classic sense, an astounding lyricist and a kick-ass drummer.
'What's Shouted In The Dark (The Dark Shouts Back)' is out now and Paradise will follow on July 30th via Neolithic Recordings.