Deon "Shoplift" Williams, known as music artist "Shoplift Spittz", is an established entertainer from Detroit, MI. Upholding an outstanding career in music under the local label Do Something Ent. Shoplift has worked with and/or toured with artists such as Fred Da God Son, Tabius Tate, Obie Trice, Lil Boosie, 50 cent and many more. Touring with mogul Obie Trice, nationally and internationally, has offered a great experience and opportunity to do more in media and with appearances.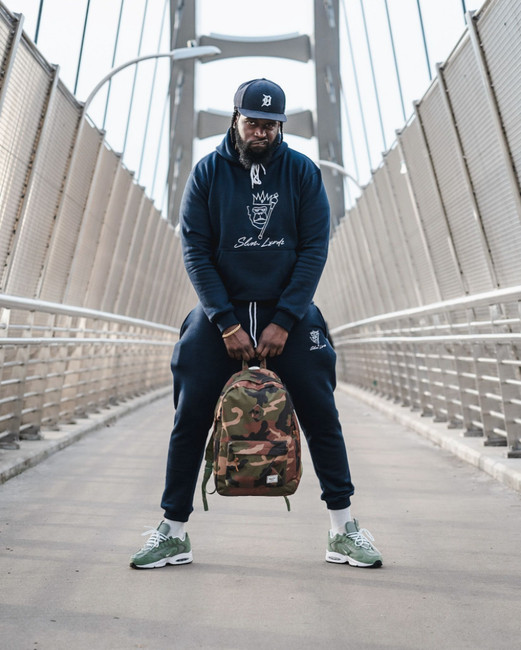 With music continuing to be the main focus, Shoplift has also pursued and launched his apparel and merchandise brand, SLVM LXRDZ, which will promote the same concepts as his music; exuberating positivity through success. Active in mentoring youth in music and partaking in an annual picnic promoting youth safety, Shoplift looks to inspire through music and provide a more positive outlook on the future. The single from this album, titled "Distance", has already made a large impact with over 300,000+ views, with its feature on World Star. "The culture is me, and I am it; I couldn't imagine my life without music. My purpose is to push the culture forward with my personal encounters through my music."
When Shoplift's father, a former member of the "Four Tops", suddenly passed in Shoplift's arms years ago, becoming one of the many devastating experiences impacted Shoplift, but the ultimate loss in life, left him in a dark place. Being an inspiration to his music, his father had always encouraged him to not quit. One of the reasons his loss of focus on music and engaging in unsafe surroundings was a lifestyle cut short, was the constant mental reminder to himself of his father's encouragement. "I knew there was more to life and didn't want to disappoint my mom or those who have sacrificed to put me into better positions. I realized something needed to change just didn't know how to go about making the change happen."
Releasing "Every Day Above Ground"on February 21st, 2021, will be followed with multiple captivating visuals to accompany the already released, "Distance". This project will be reflecting on life's experiences and growth through trials and tribulations; Shoplift spreads the message of not allowing fear from past experiences to impact the success of the future. "I've been through all this to get you through this very moment, to get you to this present time, to get you past your own scars, your own wounds, and your own fears; this is a reminder to you…Fear Don't Control Me!" With a feature from "Love and Hip Hop's" Tabius Tate, beats by Mr. T The Producer, and Engineer work with Selasi Duse, "Every Day Above Ground"by Shoplift Spittz is SURE to give a variety of music fit for all!
https://www.instagram.com/shopliftwilliams/