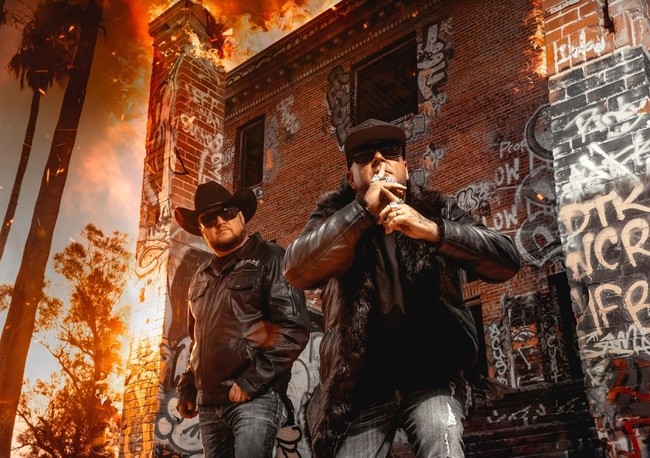 Something that's been happening a lot lately in the music industry is the crossover of sounds and musicians converting to a different style of music, making something that's exciting and unexpected. Sounds you didn't think went well together end up being something spectacular, and that's what Moonshine Bandits have been proving for quite some time. Moonshine Bandits are a country-rap group made up of Dustry Dahlgren and Brett Brooks. Since their formation in 2003, they've been serving music listeners the best of both worlds with the sweet tang of country music and the intensity of rap music. After starting in California, they've toured all over the country and even created their own record label, MSB. Their latest single, "Live The Madness," featuring Corey Taylor of Slipknot (his wife is a big fan of Moonshine Bandits), is another project that will shake the music industry up.
"Live The Madness" is all about living that rock-star life to the absolute fullest. The lyrics illustrate hopping into a luxurious car and driving down the highway without a car in the world. In this song, Moonshine Bandits have taken the best parts of hip hop and country music and turned it into one of the best crossover songs of its kind. The song is divided into two parts: the first part is the chorus, which is all classic country sound. The second part is the verses, where that high-energy rapping comes in thanks to Corey Taylor. You may know him as the lead vocalist of one of the biggest metal bands in the world, but don't be fooled: he can spit a rap like the best MCs out there. Something that some might find unusual the Moonshine Bandits makes sound incredibly easy.
The video for "Live the Madness" is the perfect visual for not only this song but for the genre they're pioneering. The clip starts with a blacked-out Camaro driving through desert and dirt roads. From there, it takes off with flying race cars and their own private jets. The video comes to a halt as Moonshine Bandit pulls up to an old gas station and finds a secret door to a secret club. Behind the mystery door is a lavish club decked in red velvet, flashing lights, and beautiful women. Corey Taylor joins Moonshine Bandits as they surround themselves with beautiful women, clad in denim vests and studded leather and ready to meet their desires. It's the clash of two worlds done in a seamless way.