By R.M. Engelman
Just like everything else this past year and into the new year, the NAMM (National Association of Music Merchants) live attendance show was cancelled due to Covid. The show and events were then successfully rescheduled as virtual online but still interactive. The hustle and bustle, time scheduling, warm weather, and hanging out with friends was obviously missing. Going through all of the offerings and checking out products to get the full effect this year, was also time consuming but rewarding. The thousands of music manufacturers and attendees weren't able to be in Anaheim in person, but the event continued as the Believe In Music virtual event. The NAMM organizers and manufacturers spent a lot of time organizing both their presentations and "Virtual Booths" in order to offer a great personalized online experience. The event was turned into a week long offering, allowing virtual attendees to spend more time getting resources. Each morning NAMM announced the focused activities and presentations of that day.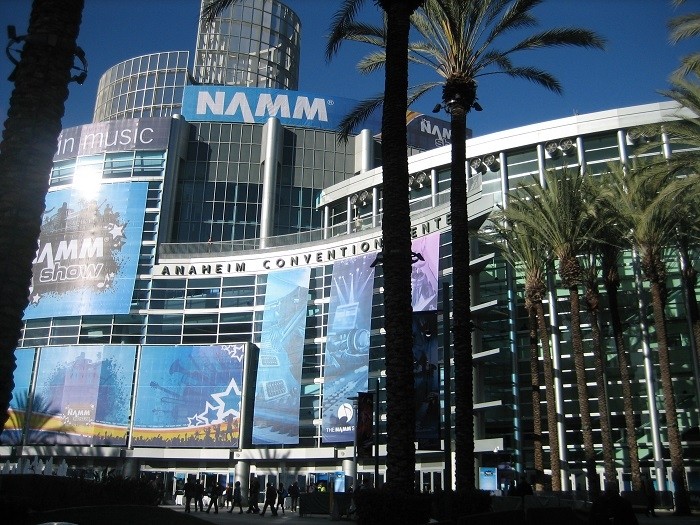 Some of the key offerings were Believe TV, Gear TV, Artist TV, Speakers, and Education & Training. A few of the Featured category options were watching Chris-Lord-Alge, Timbaland, Leslie Brathwaite, and Finneas O' Connell mixing songs. One of the Artist Sessions featured Leland Sklar, Jim Keltner and Steve Lukather, joined by Liberty Devitto, Dom Famularo and Paul Quin. Virtual exhibitors were categorized by Brands, Products, and Featured. Manufacturers offered click-on access to new products, live sessions, demos, chat options, the ability to interface with company experts, and some even had online factory tours.
GUITARS
PRS – Some of their new product lines include the Special Semi-Hollow, Studio, McCarty 594, Silver Sky, and new artist models. GIBSON – Their new offerings include the Kirk Douglas SG, Slash Victoria Goldtop, Gene Simmons G2 Thunderbird Bass, Peter Frampton "Phenix" Les Paul Custom VOS, Tom Petty SJ 200 Wildflower, Slim Harpo ES 330, Noel Gallagher J 150, Orianthi SJ 200, and the Marcus King ES 345. IBANEZ – They're offering the new Joe Satriani JS2410JYB Signature guitar. D'Angelico – is featuring new offerings in the Premier Series LS Acoustics, and the Premier, Excel, and Deluxe solid and semi lines. VINTAGE – Check out their Icon versions of the classic American axes. ESP GUITARS – Featured axes include the 30th Anniversary Kirk Hammett Signature KH-3 Spider, the LTD Arctic Metal Series, new LTD Deluxe models, and new LTD basses.
AMPS
MESA BOOGIE – Now a part of the Gibson group, they're introducing the California Tweed™ Series. The new Single Channel, "old school" with 6V6 Tone in every viable wattage you could want. The Rectifier Badlander 50 adds a distinct tonal character to the Badlander Series. Other notables are the Triple Crown Series and the Mark Five 25th 1 x 10 combo amp. PRS – The MT15 Mark Tremonti Signature Amp has 15/7 Watts [1/2 power switch], 5881 power tubes, fixed bias, gain, master, treble, middle, and bass controls on gain channel, volume, treble (with pull boost), middle, and bass controls on clean channel, and global presence A nice series of retro looking British sound tube amps including the Super Fifteen, Super 50-9 M80, Twilighter Stereo, Varsity Reverb, and Panoramic Stereo. SUPRO – Continues their retro version tube amps with the Black Magick, 64 Super, Keeley Custom 12, and the popular Delta King in 8″,10″, and 12″ speaker versions.
VOCAL
MXL – Classic tube mic fans will want to check out the complete Revelation line featuring the original, the Revelation II, and the Revelation Mini FET. ELECTROVOICE – The RE Broadcast Series Microphones feature the RE Variable-D that minimizes the directional mic "Proximity Effect", allowing your voice to sound the same anywhere around the mic.
EFFECTS – ELECTRONICS
SEYMOUR DUNCAN – Seymour has taken a mere 45 years to become the premier pickup and now pedal guru. New products are the Diamondhead Multistage Distortion + Boost, and the Brad Paisley La Brea and Joe Bonamassa Bonnie signature pickups. EVENTIDE – A plug-in version of the iconic Instant Phaser Mk II tape flange simulator is now available. UNIVERSAL AUDIO – Take a look at the extended line of Apollo Audio Interfaces, UAD Accelerators, and LUNA recording systems. MACKIE – They have the new Onyx Series Mixers, SRM-V Loudspeakers, MC Series Headphones, Pro FXv3 mixers, EleMent Series Mics, and the CR-X monitors. NUGEN AUDIO- Unveiled its "Focus Elements" solutions, budget friendly, streamlined versions of the popular Focus bundle plug-ins, and the Stereoizer Elements, a stereo width plug-in that adds depth to mixes, and its new Paragon software, the world's first 3D-compatible convolution reverb. PreSonus – Record, produce, mix, master, and perform all from Studio One 5, a single, intuitive application. The Start Page provides a dashboard with all your songs, projects, and shows, plus a personalized user profile that allows you to add custom metadata to all your creations.
This years show made the most of living in "The Virtual World" a reality. The good news for all non "Virtual Attendees" is that virtually (yes I used it again) all of the musical distributors will provide show and brand highlights. Most will also provide You Tube and manufacturer demo links to help players fully understand a product. Check em out!