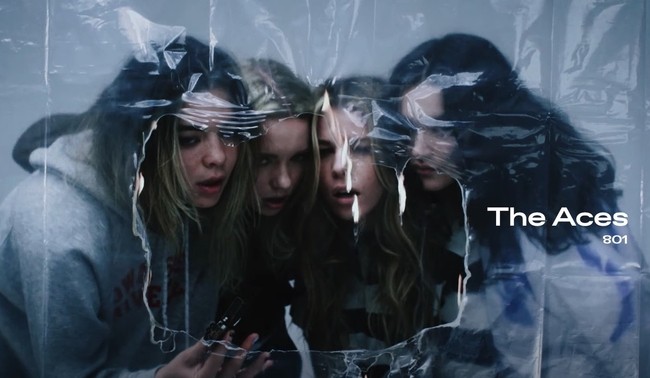 If you come from a small town, there's no question that it's going to shape you and turn you. Often, it's because there are people in that town who hold certain standards. Some break the molds of these towns who are daring, bold, and aren't afraid to be who they are. They're unapologetically themselves, and that's exactly how you would describe The Aces. The Aces are an all-girl alternative band that's been stirring up the music scene ever since 2008. The members are Katie Henderson (guitars), McKenna Petty (bassist), and sisters Alisa (drums) and Cristal Ramirez (vocals). These Utah natives have never fit into the cookie-cutter mold of their hometown, and once they got out, there was no turning back. Their latest album, Under My Influence, is the epitome of a fantastic alternative album. Each track brings something slightly different as listeners dive into their new world, and the single "801" is no exception.
"801" is a mysterious and intriguing alternative track with an intense message behind it. The song refers to their upbringing in Utah. Coming from a repressive town, growing up and being themselves wasn't an easy thing. In the lyrics, The Aces reflect on their lives in the 801, from going to the only club in town to leaving their Sunday bests behind. The song also points out how they don't have to worry about being themselves now. They're free to be whoever they want and free to do whoever they want. Without Utah, they would've never become the amazing girls that they are. "801" is an anthem for those who got out of their small towns and can finally be themselves.
The video for "801" starts with a sweeping shot of a mountain with the glimmering city lights in the distance. Then we see the girls dressed in black leather jackets with black ski masks biking down the street. It's not long before they take to the city streets and start burning fires in the shape of the area code numbers. Directed by The Aces' very own Alisa Ramirez, she takes inspiration from their entire upbringing to create this sick and mysterious video. The video is vibrant, crisp, and even a little bit dangerous, but it's perfect for this song and its message.