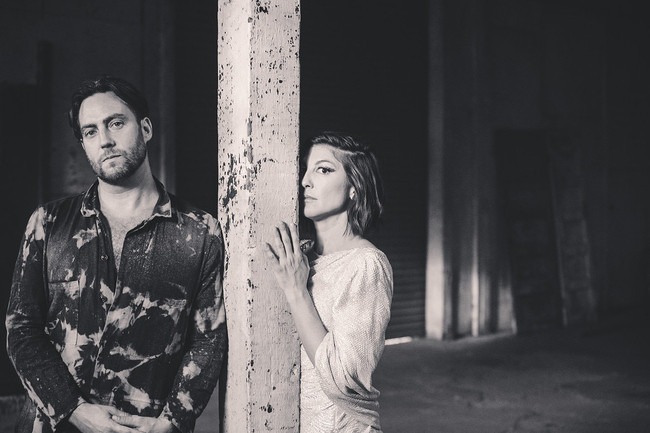 After finding themselves at the center of an unexpected and unwelcome spat with Donald Trump, TWO, the duo of Aja Volkman-Reynolds and Dan Epand, formerly of LA indie rock outfit Nico Vega, have debuted the new video, "Cage Fighter." The song is taken from the band's debut, Pull The Knife Out, produced by Epand and released on their own TWENTYTWO RECORDS label.
"This video for 'Cage Fighter' is all emotion," says Epand, who directed the clip. "Our hope is to capture the anxieties, the antagonism, the fear, the judgment, and the anger that have torn American society apart. And to capture ALL of it. At the same time."
All of those feelings came to a head in the past few weeks when he and Volkman-Reynolds found out that President Trump illegally used their music in a viral video calling followers to "Fight for Trump." The song, "Beast," by their previous band, Nico Vega, was used without permission, and the band promptly demanded the video be taken down.
Read their full statement HERE – https://madmimi.com/p/a7e9b11
"People always thought 'Beast' was a political song, but it was more a reaction to systematic and cultural repression in America. In a way, 'Cage Fighter' reprises these ideas. Aja and I are pretty idealistic in that we fight for the underdog and hope for a world where individuality and differences are celebrated and met with respect and love." Epand continues, "We know where we stand socially and politically, but the irony is everyone feels attacked. And judged. And misunderstood. It seems that pointing the finger isn't working. But the idea expressed in this video is that maybe spreading love and acknowledgment might be a better way of bringing people back together. We know that a lot of people feel ready to explode right now. The antagonism of the last few years mixed with quarantine has put people in uncharted territory… Hopefully, this video will serve as a bit of a cathartic release."