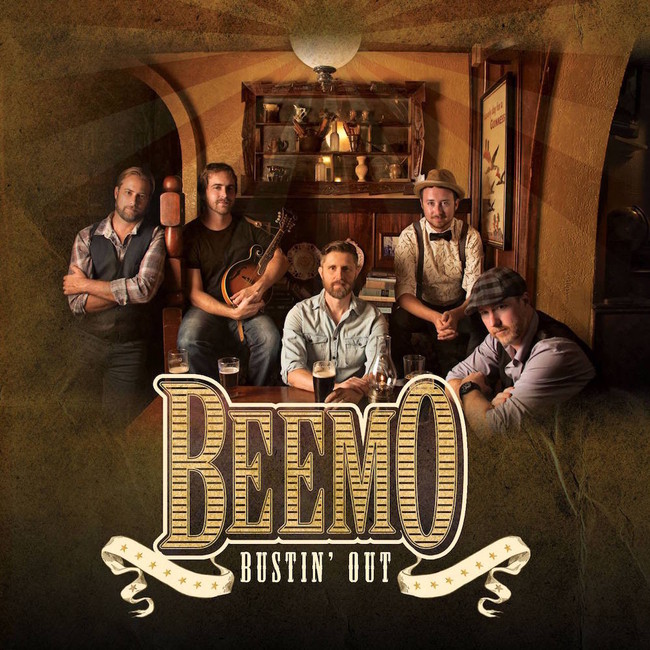 Beemo describes its music as the blending of Celtic folk, bluegrass and rock. Its single "Nova," is just that. It starts off with propulsive percussion, which sounds a little like the opening drumming to a Bruce Springsteen song. Next, equally momentum-building acoustic instrumentation enters the mix. After the guitar and mandolin take centerstage, a fluid bass part joins them. The lead vocal, followed by nice vocal harmonies, completes the musical picture.
At one point, Beemo sings about "drinking to forget her," which gives this rhythmic number a post-breakup lyrical association. While this song is built around traditional instrumentation, the spirit of it is decidedly rock & roll. Beemo may remind you of an Irish/English band from a few years ago, The Pogues. Members of that group were inspired to start a band after witnessing the initial punk rock movement in England. Rather than starting just another punk rock outfit, though, these players combined the urgency of punk rock with a love of Celtic music. Yes, Beemo has come along well after the punk rock introduction, but you still get the feeling these players love hard driving rock & roll just as much as they appreciate roots music. The listener can pick this up in the group's enthusiasm during "Nova."
This group has already been creating music for a decade now, and is based in the unlikely locale of Orlando, FL. One might expect the act to come from Boston, MA, or some other more urban region. With that said, though, Celtic music has penetrated many far-reaching areas of the United States (and the world, for that matter), so we shouldn't be surprised to find a group like Beemo in a place such as Florida.
"Nova" is a track taken from the band's album Bustin' Out. Although the album is packed with original songs, Beemo has earned a reputation for covering some unusual and unlikely songs in concert. On any given evening, you may hear Beemo perform a-ha or Ozzy Osbourne. Now, with the act's strong vocal harmonies, "Take On Me" would sound especially good in this act's hands. For Osbourne, their singing would actually sound better than Ozzy. It would be a treat to hear Beemo's take on "Crazy Train," for instance.
https://www.instagram.com/mynameisbeemo/
One also imagines this group has performed songs like "Danny Boy" and "Whiskey in the Jar" a time or two, as well. This is not a strictly purist Celtic act, though. Instead, the group loves the instrumental mix of traditional sounds, which are then placed to contemporary lyrics. That way, Beemo keeps the music alive, while remaining a relevant contemporary act. Even if you're not particularly fond of Irish music, you'll still likely enjoy this song. It's one you can easily clap your hands and stomp your feet too. The recording of this song echoes what it must sound like when performed live. It's a song that would make a great concert-closing selection, in fact.
The five-piece is pictured on the artwork with glasses of beer on a table. This suggests, truthfully, how "Nova" as lively Celtic-inspired bar band tune.
-Dan MacIntosh