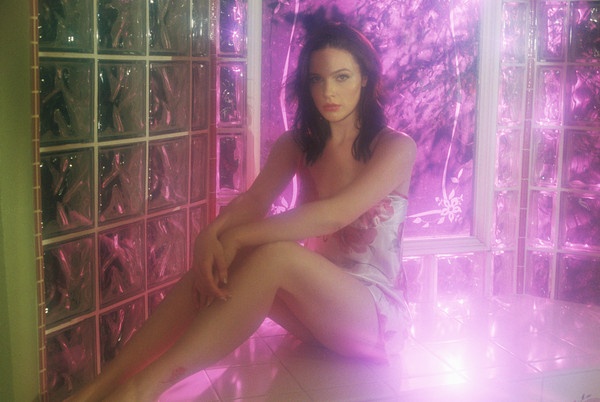 Ginesse — the artist project of Los Angeles-based actress Cait Fairbanks — is sharing the video for "LA Isn't Somewhere To Die" from her newly released EP, 'Somewhere To Die.' Enfts Terribles exclusively premiered the video today, describing it as "a wonderful avant-garde wonderland."
A hazy, melancholic indie-pop number, "LA Isn't Somewhere To Die" is one of the five new songs featured on Ginesse's new EP, 'Somewhere To Die.' Written in the aftermath of a particularly challenging breakup, the single is a thank you to the friends who stick around, even through the hard times. "LA can be a lonely place," she says, "but this is a love song to the dope friends in my life who keep me from blowing my brains out, honestly." Directed by Natalie Fält (Tegan and Sara, WENS, Lila Gold) and styled by Jordan Douglas at JXJ Studio, the "LA Isn't Somewhere To Die" video is a haunting, vintage wonderland that feels like the perfect extension of the nostalgic world introduced throughout the EP.
Stream 'Somewhere To Die' on Spotify:
https://open.spotify.com/album/6Mx5RMMowhXlhUfTf1jrJ4
Stream 'Somewhere To Die' on Apple Music:
https://music.apple.com/us/album/somewhere-to-die-ep/1538692801
Performing under the name Cait Fairbanks, Ginesse has already made quite a splash in the acting realm with her two-time Emmy-nominated role on The Young and the Restless and her performance as Veronica in the critically acclaimed off-Broadway show, Heathers: The Musical. In 2018 she launched her musical project, Ginesse, to enthusiastic praise from the likes of PAPER, NYLON, and Billboard.
Perhaps due to her strong thespian roots, she admits that she often approaches Ginesse as "a character to play." But she also acknowledge that this is the perfect outlet to boil herself down in. She's not wearing a wig or spandex but instead presents the most concentrated version of herself by telling genuine stories via metaphors that emote relatable, uncomfortable situations and feelings. "I want my music to make people feel like the whole world is wrapping around them," says Ginesse. "If I give someone an emotional picture of a specific moment, that is truly special."