Earlestown, Merseyside based indie-punk four piece The K's are released their explosive new single 'TV' on the 25th of September.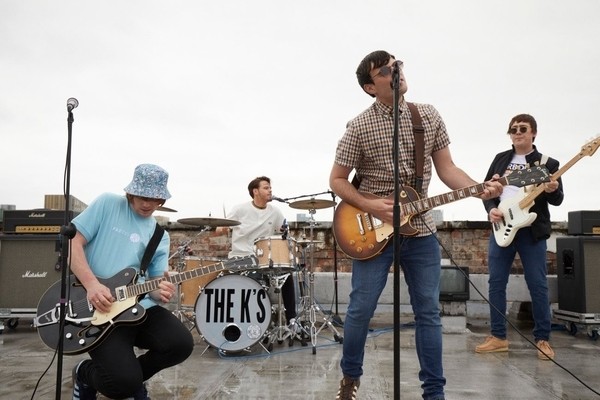 2019 was a breakthrough year for The K's, and the band have been studiously working since the turn of the year and throughout lockdown on a host of new material and lockdown live sessions, and the group have also been strengthening partnerships and endorsements with the likes of Scotts Menswear, This Feeling, Gibson Guitars and Marshall Amps. The band recently filmed a promo video for 'TV' as part of Scotts Menswear's Take To The Stage campaign, which can be watched HERE
Having formed in 2017 when frontman Jamie Boyle and childhood friend Dexter Baker (bass) met Ryan Breslin, who'd already shared stages with huge bands including The Who, The Killers and Aerosmith as a session guitarist in his older brother's band Slydigs. Although Ryan was living the dream of "enjoying one big piss-up while playing arenas and the biggest stages around the world", he wanted to seek out his own creative outlet. The missing piece was Jordan Holden, a dream drummer equal parts John Bonham powerhouse and Reni fluidity. Since then, The K's have gone on to sell out Manchester's 1,500 capacity The Ritz, play blistering sets at festivals such as Kendal Calling and Neighbourhood Weekender, as well as Exit in Serbia and Croatia's INmusic, and their debut single 'Sarajevo' has gone on to achieve over 1.5 million Spotify streams.
Furthering the band's innate talent for writing perfect, indie punk music and bringing it right up to date, The K's energetic new single 'TV' is a feel good, get to your feet and jump around kind of track, influenced by TV culture and growing up in a time when so much information is fed to us via TV and the media. We had a chat with frontman Jamie about the new single, general life in The K's, and what the future holds for the band.
https://www.facebook.com/theksofficial/
Q1 – You've achieved an awful lot since forming back in 2017 and gained a huge amount of support, but for those who may not know already, who are The K's and how would you describe your sound?
We're a four piece band from Earlestown in the North west of England. Jamie Boyle (Vocals and guitar), Ryan Breslin (Lead Guitar), Dexter Baker (Bass) and Jordan Holden (Drums). It's hard to describe our sound because we can't really be put into one category. It's like energetic indie-punk but we like to mix it up and slow it down with fan favourites like Hoping Maybe and Valley One. We can't be put into just one category, we take the best bits of them all and throw it all together and people buzz off it.
Q2 – What's the main reason you make music?
We were all mad into good music at a young age which is why we all decided to pick up instruments in the first place. I don't even think it was ever a conscious choice at the beginning to be like 'Right today I'm gonna make some music of my own' or anything like that. It starts off as learning to play bits of tunes on a guitar and just snowballs into writing full tunes of your own, then if people like it you're addicted and can't stop. Lucky enough for us people love it and we have the best job in the world. I don't think we'll ever stop. I'll still be smashing tunes out when I'm 80.
Q3 – What do you hope to achieve as a band, what are your future goals?
We've absolutely smashed every goal and challenge that's been put in front of us so far and we will continue to do so as soon as normality returns and we can get right back to where we stopped. We tend not to set ourselves too unrealistic goals or targets, we just focus on whatever we've got coming up next or the task at hand and make sure we absolutely blow it out the water. It's worked for us so far and we're definitely on the right path, wherever the fuck it leads to.
Q4 – You've just released your new single 'TV', could you tell us more about it?
I wrote 'TV' probably at the back end of last year. It's a sort of sarcastic account of my experience growing up in modern England and I know it's the same in many parts of the world. We're sold these dreams on the TV showing the lives of celebrities and socialites and when you're younger, it's like you believe it's real life and it's what you should be aiming for. As you get older though you realise it's all bollocks. None of it matters, really.
Q5 – You've gained a reputation for being a blistering live band, what's been your highlight gig wise so far?
Every gig we do is always class. The crowds keep getting bigger and bigger, which means only one thing, the parties get better and better! I think a favourite to date would be Kendal Calling last year, they had to close the tent down as there were too many people trying to watch us and to get that at a festival where it's not really 'your crowd' is ace.
Q6 – It's been a long time since you've played live, how have you been coping?
We haven't! We're missing the road big time and can not wait to get back out to see everyone, but in the meantime we have been writing, recording and partying alone at home!
Q7 – You've got a long run of live dates booked for April when gigs will hopefully be back on, do you think they'll go ahead without any serious intervention from the government?
Absolutely, we'll make sure they do! Get yourself a ticket!
Q8 – How important are live music venues and why do you think the government should work to secure their futures, along with the future of the live event industry in general? How is this affecting your home towns?
Live music venues are the grass roots for music in England, it's massively important to save their future; not only for the local business owners and employees but for the music scene itself. Without Grass roots music venues, we'd never been in the position we're in now and other bands will never get to be. Without them how can it be possible to have that intimate connection with fans?
Q9 – What can bands and fans do to be proactive about this situation? Any advice?
Keep at it. Keep writing, recording and practicing. There's no doubt that social media has helped us as a band stay connected with our fans, so it's a good shout to focus on utilising those sort of platforms at the moment.
Q10 – Are you going to be recording any time soon – do you have a follow up lined up to come after, 'TV'?
We're busy recording demos, new singles and writing over the next foreseeable months. We're hoping to have more music with you before 2020 is over. Let's end this trainwreck of a year with a bang.
The band have stated that there are many versions of the story behind the name The K's, but the one they all agree on is that it comes from a local record store called 'Kaleidoscope Records' in St Helens WA10 – this was then shortened to The K's. The K's are Jamie Boyle (vocals/guitar); Ryan Breslin (guitar); Dexter Baker (bass); Jordan Holden (drums)