Everyone is talking about how we need to listen to new black voices. Lesibu Grand is exactly that. Afropunk.com, the leading alternative black culture curator, called Lesibu Grand's latest single and video "We Fucking Suck" (or "WFS"), "the punk anthem we need" and "an instant classic". Punkblack.com another leading black culture blog, said "WFS" "wields the truth like a chainsaw-literally." Picking up on the buzz, Alternative Press included Lesibu Grand in their Top 40 new artists list in October, saying WFS "calls out the American government and how they've failed the people."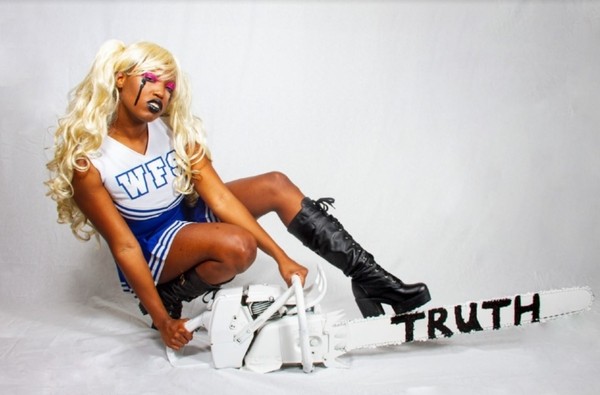 This Atlanta based truth-telling, social justice fighting, indie rock band holds nothing back in their latest punk hit. AFROPUNK, who premiered the video, called it "the new American national anthem." Inspired by recent events and the government's behavior towards these events, or lack thereof, Lesibu Grand finally said enough is enough. The punk anthem calls out policymakers for not dealing with the problems happening in the United States. Like all good punk songs, "WFS" holds nothing back in its lyrics or meaning. From the coronavirus, to criminal justice, housing and poverty, to gun control and voting rights, Lesibu Grand takes a jab at every single political topic. Lesibu Grand front woman Tyler-Simone Molton wants everyone to know how she feels and how she thinks. And everyone is feeling that same angst and frustration; it's no surprise to see the song has been picked up on Spotify playlists like New Punk Tracks (172K Followers), Fresh Finds: Rock (50K Followers), and Indie Rock 2020 (46K Followers). The words and the punk beats certainly pack a punch and cuts through like a knife.
As Tyler-Simone shares, "We were deeply disturbed by what we were seeing as the Trump era dragged on, and we wanted to express those feelings in a song… There were so many issues flaring up that we decided to address them all in a very direct way, as the best punk songs always do. As we thought about the hot button issues in America today (gun control/violence, housing, poverty, healthcare, voting rights, and criminal justice), we realized that we, as a country, were not even trying to fix these problems and concluded that we can and should do a lot better. So we said, 'wow, right now we f'ing suck' and the song was born."
With the help of green screens and home editing, the "WFS" music video was made virtually, often on Zoom. The video starts with Tyler-Simone dressed in a blue cheerleading uniform and blonde pigtails and grunge makeup. Shaking her pom-poms to the punky beat, she then starts dancing in front of the White House and the Oval Office. After that, the video goes into high gear with newspaper headlines and more clips of Tyler-Simone rocking out on her mic. Just when you think you know how the video is going to play out, it changes. The next clip shows her in a blue dress with glasses standing in front of a chalkboard while telling the children how America sucks. Later she rocks out on a fiery, hot pink chainsaw, which they call the #truthsaw, before the video ends with Tyler-Simone in her cheerleader outfit laying dead in a field of black and blue roses, with black tears and a mask over her face. The punk anthem plays out on one last chord and carries out until the screen goes black. Lesibu Grand's "WFS" is the anthem that a lot of people have been waiting for. It's a song that makes you want to stand up and dance to and scream the words. It makes you want to stand up and fight for something better or fight for what's right.
Lesibu Grand (pronounced Le-SEE-boo Grand) is an indie-rock band from Atlanta, GA that grew out of a songwriting partnership between singer Tyler-Simone Molton and bassist John Renaud. The origin of the band can be pinpointed with unusual accuracy: June 28, 2017, when Tyler-Simone Molton bumped into John Renaud at the Pains of Being Pure at Heart show at The Earl in East Atlanta. The two then sunk deeply into an unexpected songwriting frenzy. Completing each other's thoughts and phrases, the two wrote an entire album's worth of original compositions in just over a month. Thereafter, they brought in Brian Turner on guitar, Lee Wiggins on drums, and Warren Ullum on keyboards to complete their sound. The band takes its name from Tyler-Simone's middle name given to her by her maternal grandfather, Labius Lesibu, who emigrated from South Africa.