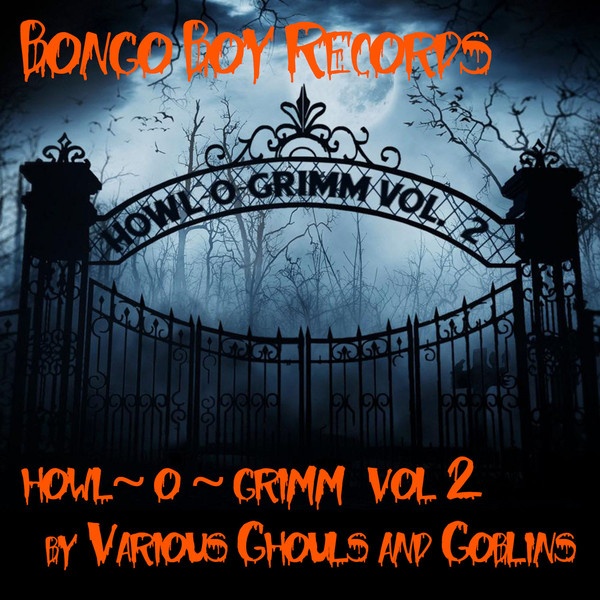 LoungeZotica 3000's offers a tasteful surf-rock soaked rendition of "The Munsters" theme. They channel the energy of the great Dick Dale while the guitar work weaves itself together into something truly invigorating. Rhythms opt for a taut, driving pulse thanks in large part to the impeccable bass work.
Wayne Olivieri delivers a wry piece of Halloween-themed pop 'Soul Motel feat. Gar Francis' proving Wayne Olivieri's uncanny ability to get into the reason for the season. Elements of horror mix their way into the story while it draws from Hitchcock's Bates Motel. Vocals have a commanding presence to them.
Clark Ford's "Spiderwebs In My Hair!" incorporates a bit of the Dresden Dolls' theatrical quality. Within this context she embraces a wide number of instruments into the mix giving additional color. The true heart and soul of the piece rests within the power of her very commanding voice.
A deep, late 80s goth rock runs through the Spies' "(Got My) Eyes On You" with features delightful, delirious storytelling. Guitars have an angular edge to them. The slightest hint of acid-tinged psychedelic rock weaves its way into the mix.
The cryptic funk of Inches From Sin's "Come See Me (feat. Lyia Meta)" has a slowed-down groove to it. So heavy the bass rumbles through with a sheer force of nature quality to it. Eerie atmospherics permeate the whole of the track while it rolls on past.
Haunted glam races through David LaDuke's playful "Gonna Get Ya (1984)". So much energy pours out of the piece. Lyrics have an intensity to them while the guitar solos burn brightly.
skinsNbones demands to be played at the loudest possible volume on the stellar anthem of "Is There Meaning". A nice nod to grunge rock's defiant roots the song feels outright visceral. Multiple layers intermingle as an animalistic spirit ties it all together.
Delicate folk symphonies sweep through on STUDEO's soulful "What's Ahead for Me". Quite spacious the sprawling scope feels visceral. Her passionate vocals serve as the very heart of the piece from which all else flows.
Tilted Axes & Patrick Grant Group sculpts a series of progressive rock suites on the surrealist ode of "Imaginary Horror Film – Part 2". A true trip they draw heavily from the turn on a dime rambunctious Frank Zappa at his peak. So many different layers merge to create a cascading whole.
With the playful "The Monster Mash" Daniel Ferreira nicely celebrates the inherent kitsch of the Halloween classic. Guitar opts for a rhythmic nimbleness as they soar off into space. Vocals have a passion to them as they are delivered with such urgency.
– https://bongoboyrecords.com/howlogrimmvol2/
Featured Artists and Spooky Music
1. LoungeZotica 3000 – The Munsters TV Theme 2:19
2. Wayne Olivieri – Soul Motel feat. Gar Francis 3:52
3. Clark Ford – Spiderwebs In My Hair! 3:07
4. The Spies – Eyes On You 4:18
5. Inches From Sin – Come See Me feat. Lyia Meta 3:38
6. David LaDuke – Gonna Get Ya 3:03
7. skinsNbones – Is There Meaning? 4:40
8. STUDEO – What's Ahead for Me 4:13
9. Tilted Axes & Patrick Grant Group – Imaginary Horror Film – Part 2 7:26
10. Danny Ferreira – Monster Mash 3:16