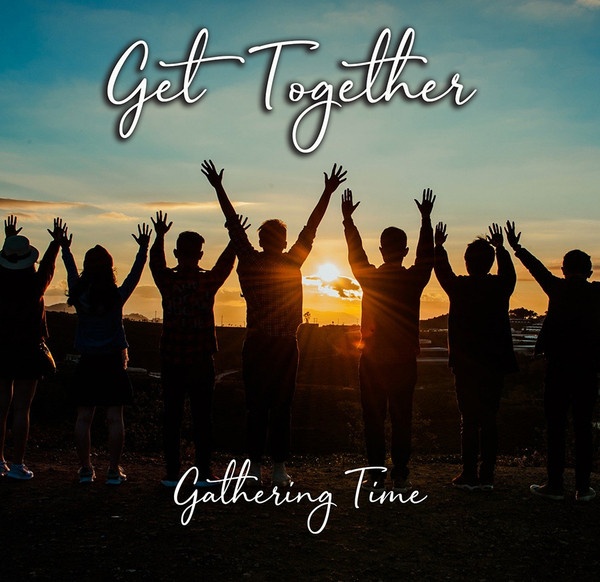 A week before election day in one of the most contentious and discordant political years in more than half a century, folk-rock harmony trio Gathering Time has announced that they are unveiling a music video to appeal for unity and compassion on Tuesday, October 27, one week before Election Day at –
"Get Together," a song whose original version first hit the charts at a similar time 51 years ago, was the lead-off single to Gathering Time's album Old Friends, and the #1 song on the Folk Alliance International Folk DJ Chart for July.
"This has been such a divisive year," said band member Stuart Markus, who shares bass, acoustic guitar and vocal duties with bandmates Hillary Foxsong and Gerry McKeveny. "We'd decided a year and a half ago that we needed to include a number of socially conscious songs, in an album of classics. In June, when the Black Lives Matter protests were at their height and the denunciations from the political right were just as fierce, we decided to spotlight this song and its message. Now, with the election upon us and so many people nervous about what might happen next, we decided it was time to share it again."
The video features footage of Gathering Time performing in several locations, most notably Heckscher Park in Huntington, Long Island, an iconic outdoor venue known for its weeks-long summer music festival that draws national talent. It also features a number of images from the year's news headlines, visually connecting the decades-old song to current events. It was directed and edited by Efrat Shapira of Efrat Productions and includes footage shot by Robert Comforto of Video Masters and the band itself.
Gathering Time has been touring on the regional and national folk circuit for over a decade, and is as well known for their interpretation of '60s classics as their originals. After four albums of mostly original material, they decided to record Old Friends, an album in tribute to the folk-rock acts of the 1960s and '70s that influenced them. Released on Sept. 1, it was the #1 album on the Folk DJ Chart for the month, and its seven songs in the top 20 landed them as the #1 artist.