An intergalactic incursion is set on your playlists in the shape of 2020's new pop-rock trio -Aliensdontringdoorbells. Involving Dorian Foyil (Guitar, Sax and Lead Vocals), Adam King (Lead and Backing Vocals) and Christian Pearl (Keyboards and Backing Vocals) they have released their debut album 'Arrival'.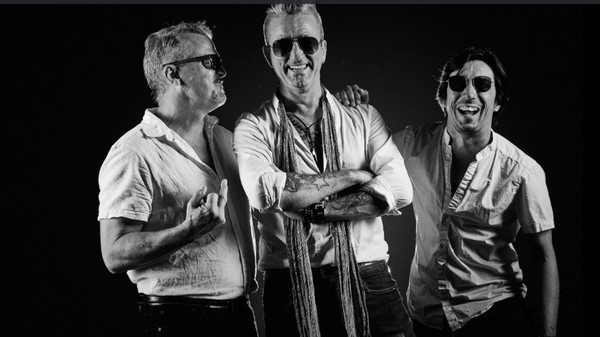 Recorded at The Keep Studios in Denver, Colorado the band worked on a collection of brand new songs with Jeff Kanan who engineered Michael Jackson's 'Thriller' album on production duties. Opener 'Slipping Away' is about a girl who gets dressed up to go out so you think you are gonna lose her forever. That feeling of possibly losing someone close to you is a universal theme that will connect with listeners early on.
A highlight is the emotive 'Story' which was released as a single and touches on the strong bond between a parent/child and how important that is especially when the parent passes away. King's vocal is smooth whilst the lyrics are powerful without being sickly sweet. Foyil's acoustic guitar dances majestically through the track alongside Pearl's cosmic keyboard tone.
'The Heart Is In Her Eyes' reminds me of a lost song from a musical such as 'Oklahoma!' or 'Annie Get Your Gun' with its lively musical number structure complete with smoky saloon bar piano. Then we have the funky CHIC-esque 'Blind To See' that puts a spring in your step.
'It's Your Night' is the perfect party track complete with a tight rhythm section of Kevin Dean on drums and Earl Forbes on bass. 'Daddy Blues' includes a skilled female rap solo and I am reminded of Gary 'Mudbone' Cooper's Dave Stewart produced album 'Fresh Mud' which included the vocal stylings of Nadirah X as the crisp electric guitar pours out those late-night vibes.
In conclusion, 'Arrival' is an exciting offering from Aliensdontringdoorbells as they have a strong understanding of the writing and recording process and have explored various styles and sounds to create something for people to enjoy and this group of talented individuals have certainly achieved that.