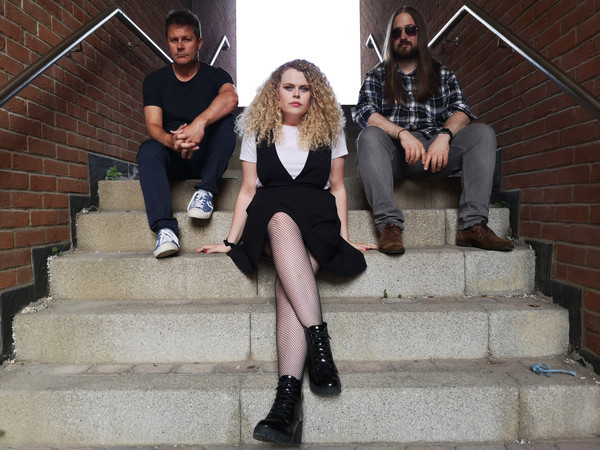 In the current climate, an upcoming single discussing the joys of a good night out clubbing might not seem that appropriate, yet AXLS's upcoming single 'discotek' scratches a musical itch that's been bugging us all lockdown. The North-East based trio – made up of Victoria, Conrad and Chris – is the up and coming electropop whirlwind ready to remind us of the unbeatable high of a good night out. Whilst having only been performing for the past two years, AXLS's ooze an authentic and audacious air far beyond their years. Citing influences in the likes of CHVRCHES, LCD Soundsystem and The Human League, AXLS join and expand on a canon of artists sculpting soundscapes on striking synth beds and stunning vocals. With a debut EP already launched into the atmosphere at the beginning of this year, AXLS build on this momentum with a flurry of upcoming singles on the way.
Songwhip for AXLS Spotify Repertoire: https://songwhip.com/axls
The first of these singles is the synth-explosion 'discotek.' With its' roots firmly planted in an electro landscape, this single is serenading those moments in the club when you're living your best life, engulfed in music and shouting along to tunes knowing no one can hear you. It's no doubt when clubs open back up this track will be a crowd-pleaser. Chris skilfully sculpts a soundscape of striking synths, with Victoria's vocals securely rooted in the centre. With a pounding bass line transporting you to the front of the dance floor (perhaps, a little too close to those booming speakers) 'discotek' is rife with the electropop goodness we've been missing these past few months. Although you might chuckle when singing along to the hook, "no we're not going home," as you dance in your lockdown bedroom, 'discotek' is an utterly infectious and undeniably danceable feel-good hit. With its upcoming release on the 15th of October, get ready to dance yourself silly as you reminisce over those nights at the club that you can't wait to re-live – and maybe a few you hoped you forgot.
https://www.facebook.com/AXLSmusic/
By Sasha Lauryn