Many music fans were wondering what kind of music a pandemic would bring. What would happen with all those creative musicians at home or in the studio, with nothing better to do but be creative? One fruit of this unique situation was Taylor Swift's relatively introverted Folklore, which may well be her best album to date. However, Swift's new songs aren't about the pandemic; rather, they're a reaction to living life during these most unusual circumstances. Singer/songwriter Stacy Gabel, in contrast, gives us something entirely different. While it also finds her being affected by the Covid-19 craziness, her new single, "Stir Crazy," also speaks directly about the pandemic.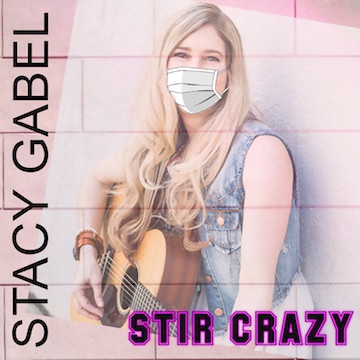 Pictured in the artwork wearing a mask (of course), Gabel has created a funny and fun response to the big issue of our day. She begins slowly and dramatically, with a pretty vocal that tells us, "I fear the world has lost its mind." And she's right. No matter which political side you take (and the politics of it all is a whole different issue), it sure looks and feels like the world is suffering from mass insanity. She then goes into the song's chorus, "We're stir crazy." She couldn't be more right about that one. This is what happens when you keep human beings cooped up for far too long. Yes, many younger people have already put themselves into self-imposed exile by living inside of their phones, but even THEY are probably feeling the pressure of being stuck inside the house. Then there's the rest of us. Many of us no longer physically go to work. Working from home probably isn't so bad, if one can at least venture outdoors after a full day of work. However, waking up, working all day, and then staying within the same basic four walls, can feel a whole lot like a prison.
STREAMING: (Souncloud)
https://soundcloud.com/stacygabel/stir-crazy/s-KAbRvHkkjyc
Gabel's acoustic guitar-driven song describes this stir craziness by first talking about how difficult it is to sleep at night. When we're up and about during the day, we can sometimes put all the dangers to the back of our minds. Gabel, though, admits to how night brings all those fearful thoughts right to the fore. How can a sane human being get to sleep when there's so much obvious craziness going on outside, all around the world? She then mentions all we're missing during in this abnormal life, such as the beauty of life and the calm of the day. Heck, most of use would settle for boredom over all the constant worry. She sings about getting back to the basics and figuring it out. But that's easier said than done. How can we get back to any basics, when the game has changed so much? And figure it out? Well, nobody seems to have that one down, either.
SPOTIFY PRE-SAVE LINK: https://show.co/KE5v45V
What saves Gabel's song from being a total downer, is the brightness with which she sings it. Her single has a sprite groove to it that keeps the vibe upbeat. Well, as upbeat as humanly possible. One day, perhaps, we'll all look back on these days and laugh. As Gabel reminds us, though, that bright day is still far away.
https://www.instagram.com/stacygabelmusic/
-Dan MacIntosh