Last Charge Of The Light Horse, a band first formed in 2004, was created as forum for singer/songwriter Jean-Paul Vest's musical creations. The Sand Reckoner reveals Vest to be quite the creative musical mind. Although it's difficult to pin just one stylistic label on the music he creates, progressive rock seems to be the closest approximation of what he and his co-creators do. Then again, listening to these eleven songs can sometimes feel like that old proverb about the blind men and the elephant. The type of animal this is, can sometimes be guessed by which part of the beast you're touching at any given time.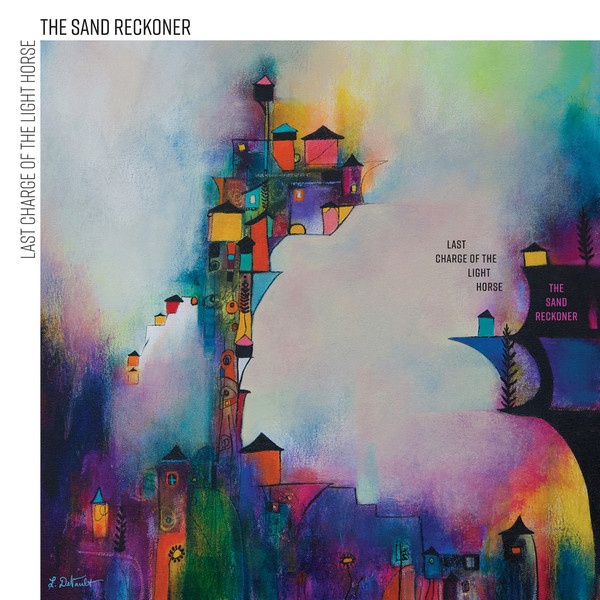 For example, "Chocolate and Cherries," the project's longest cut at 5:24, is built upon a reggae groove. This is just the song's chosen rhythm, however, because Vest doesn't utilize its island groove to praise Jah (or any other deity, for that matter). The very next song, "Running My Finger Along The Scar," is much more interesting, sonically. It's built on a bass line as cool as the Seinfeld theme song. Its arrangement is extremely stripped down. Most of the track features mainly only Vest singing its lyric against this elastically funky bass part. Now and again, though, a horn section also comes in. Although it includes instrumentation often associated with soul and R&B music, this is by no means sweet groove music. Instead, Vest sounds agitated while singing it, a little like Adrian Belew when he vocalizes.
STREAMING ALBUM:
https://open.spotify.com/album/7zxOi8QIGqNTqKrsM0tqTH
Lyrically, Vest is about as quirky as he is musically. These are not personal diaries put to music. Instead, he's almost like a scientist in his objective approach to looking at the world, then writing about it. The bass work on "Midnight Parking Lot" is also exemplary. This one, much like "Running My Finger Along The Scar," also features horns. It's rhythm, although not reggae, draws some of its sonic from reggae dub music. A song title like "Midnight Parking Lot" sets a visual scene for the listener, more than anything else. It's likely not a desired destination, and a parking lot at midnight is probably not the safest place in the world to find oneself.
Two of the album's song's feature "Habits" in their titles. "Old Habits" speaks to how old habits can sometimes die hard, while "Old Habits, New Rabbits" is a brief, 43 second instrumental. "The Bill Comes Due," however, is far different from anything else on the album. It uses traditional Indian music for its percussion foundation. Vest then sings its lyric, almost like a mantra. "Balanced On The Edge" is one of the project's rare quiet moments. It's minimal, instrumentally, as the track mostly focuses on Vest's vocal. It is a bit jarring, especially after a series of mainly instrumentally packed tracks. However, it's also a bit of welcome respite from all the album's musical restlessness. "April Morning" is also on the quieter side. It's built around a jazzy electric guitar riff.
https://www.facebook.com/lastcharge/
Yes, there's a lot going on with Last Charge Of The Light Horse's The Sand Reckoner, with most of it is good. Unlike a lot of modern progressive rock (which only tends to recycle old ideas), this album is freshly creative, all the way through.
-Dan MacIntosh