The female vocally led quintet ROCKET has taken the alternative music world by storm with every stage show and subsequent release. They have played all over the West Coast with such acts like MISSING PERSONS, BOW WOW WOW, ALIEN ANT FARM, CRAZY TOWN and PUDDLE OF MUDD.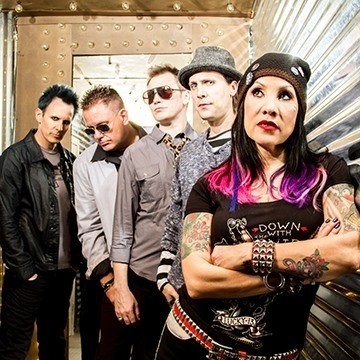 "All of these bands have been huge influences on us. A highlight was getting to play on the MAKE AMERICA ROCK AGAIN Tour when it came to the Yost Theater in Irvine and we got to play with the band TRAPT. We got to hang out backstage afterwards with them, and CRAZY TOWN, and all the other bands. But TRAPT's Lead Singer, Chris Taylor Brown, who is a phenomenal Rock vocalist, shared vocal secrets with our Lead Singer Janelle that has continued to help develop her training and technique from that meeting forward."
Janelle's "Joan Jett style look" and tough as nails vocals fit well with the alternative pop/punk mix. Even though the band's music is not politically motivated, their recent single "LOSING BREATH" touches upon the recent events of Covid-19 and the protests that have taken over the nation. So far, the single has received positive attention by fans and radio personalities. It was meant to be a snapshot of the effects of these two major events in 2020.
As of this writing their music has been played repeatedly on stations like KROQ 106.7, KLOS 95.5, Indie 103.1 and on many College radio stations nationally. This is not to exclude the press attention from such publications like, Tattoo Magazine, Guitar Girl Magazine, Hollywood Digest, Rebel Noise, Buzz Magazine and more, including CBS LA who said ROCKET is one of the best bands to catch live. 
Their music has been compared to the likes of Paramore, Foo Fighters, and Green Day. Which is a compliment if any, for a band striving for the same spotlight. "Losing Breath" was recorded with producer Mark Needham (Imagine Dragons, The Killers, Neon Trees, The Airborne Toxic Event), at Burbank Underground with Timothy Jimenez.
They tracked three brand-new songs with Mark at the infamous EastWest Studios in Hollywood, CA earlier this year. With Needham, they recorded in Studio 2 where bands like Green Day, Foo Fighters, Audioslave, Rage Against the Machine have all recorded in.
"It has been a mind-blowing experience. He has taken ROCKET's sound and pressed the "Turbo Boost" button.  We are currently mixing our new tunes and getting set to release the first of these singles coming up soon in 2020."