Time is a funny thing. Sometimes it goes with the speed of light. Other times, it moves more like a slow train. Vic Kastel's album, Time Traveler, is more like the latter, with its origins dating back to the 70s. Ah, but it was worth the wait. Kastel took a few minutes to tell us more about the album and his career to date.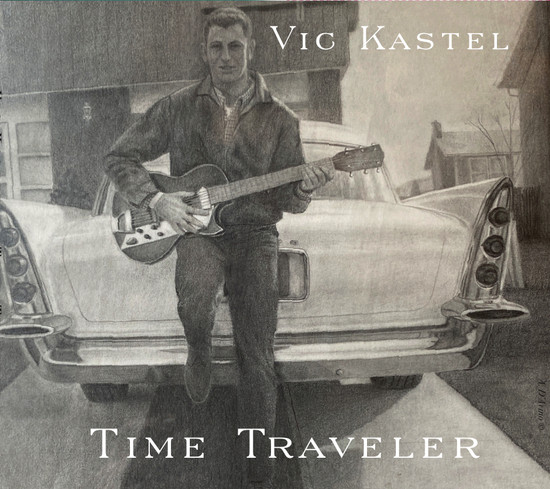 Q: You recorded your album, Time Traveler, at a studio once owned by Phil Ramone. Did you sense any ghosts of artists that had previously recorded there? Which ones?
A: The studio was A&R Studios and Phil Ramone recorded albums by Billy Joel and Paul Simon there. Interestingly enough, it was also the studios where Elton John recorded the live album 11-17-20. In its day, it was the studio in NYC. I've also got to give credit to our late-engineer Dave Smith, who made this whole episode occur. Terrifically talented.
Q: There's a picture of your old band, The Axents, performing at the famous Peppermint Lounge, which has been called the launchpad for the Twist dance phenomenon in the 1960s. Were you doing a little twisting there during that time? It's also said to be where go-go dancing started. Did the Axents ever perform flanked by mini skirt wearing go-go dancers? A lot of famous people frequented that club back then, including many movie stars. Did you have any memorable celebrity encounters?
A: Yes, that was me twisting. We actually performed either the day before, or the day after The Beatles visited that club. It was such a pivotal spot at that time. Electric for sure and yes, go-go dancers everywhere.
Q:"First Impressions" has a distinctly doo wop feel. Were you one of those young men that sang doo wop with your friends? Which doo wop artists inspired you the most?
A: Dion has, and always will be an inspiration for me. Since the album's release, that song has received the most attention. Frankie Lymon and The Platters too were inspirations. Very stylized and to me, a much missed genre.
Q: "Never Gonna Leave It" features Farfisa organ. That's one of those distinctly era-related instruments. Would you call yourself a kind of rock & roll purist, with tastes that pre-date the modern era.
A: Definitely. I love auto-tune … but, it's not for me.
Q: Time Traveler was first recorded in the 70s. What's the story behind the album's long delay in seeing the light of day?
A: I've literally been working non-stop; raising a family and building this career. I've been very fortunate in being involved in so many musical projects that when we recorded these tracks, my intention was always to get them released, but this project, or that project came up. I had intended to finally get them out last year, but then I got involved in a production of Joseph and the Amazing Technicolor Dreamcoat – performing in the band. That was a hectic schedule. But, it's finally out and the reaction has been just terrific.
Q: Are you a full-time musician, or do you have a day job? If so, what do you do for a living?
A: No, music is my full time occupation.
Q: How will you measure the success or failure of Time Traveler? Are you making a go at making it, or are you doing this – so to speak – for the love of the game?
A: Definitely for the love of the game; but music has always been there for me. Time Traveler has been a success so far in that people are finally hearing this music which has captivated me for so long and ironically, it's a great time for something like this – there's an energy in this music which people just get. People who remember music like this, and people who are hearing something like this for the first time. It's been totally gratifying.
Q: Outside of making music, do you have any hobbies or unusual interests and/or talents?
A: Music is a full time obsession. Writing it, making it, and performing it.
Q: Of the album's 13 songs, which ones are you most proud of, and why?
A: Hard call. Each of these songs are terrifically important to me as they represent a special time. "Don't Ever Let Me Catch You Giving Up On My Love," even with its long title, is a perfect pop song. "First Impressions" as I've said, is a dedication to a certain era.
Q: How did you go about choosing the musicians and singers that perform on the album? Also, which instruments can you play?
A: I play piano, bass and guitar. When it came time to record, I selected the best of the players I'd worked with. Again, we were all in the studio playing together live; very little over-dubbing. When you have a session like that, it's just magic. The joy comes through in the songs I believe.
Q: Lastly, what are your current and future recording plans?
A: We had set in motion an East Coast tour of key clubs, like The Cutting Room in NYC and My Father's Place in Long Island … but, then the world closed down, that idea was put on hold. Not having the opportunity to perform has in a way encouraged more people to listen to the album and that's been a good thing. We're already talking about a follow-up album.
By – Dan MacIntosh