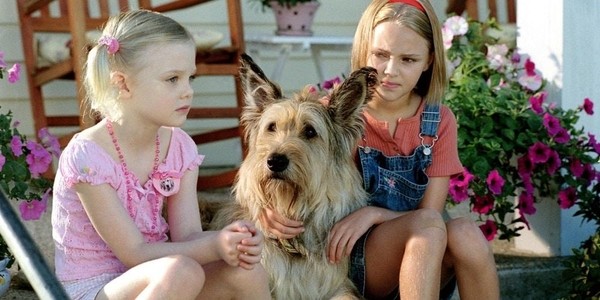 image via Walden Media and 20th Century Fox
It's common knowledge that every movie is better with a dog. Films like Lassie and Old Yeller started the trend, and they became beloved classics. Now, most heartwarming family movies have a dog. These pets represent honour and loyalty—not to mention they're all adorable. Take a look at our top 10 movies starring dogs!
Hachi: A Dog's Tale (2009)
We won't spoil too much of this movie, because it's best to go in blind. This movie tracks the bond between a man and his dog—all you need to know is that you will be crying by the end. It's a remake of a Japanese movie that's based on a real story. There's actually a statue of the real dog in Japan!
Marley & Me (2008)
Oh, Marley, you make even the strongest of men cry. When people think of dog movies of the 2000s, most think of Marley & Me. It follows the story of a canine companion from adoption to the end of his life. It's a simple concept, but viewers get to grow with the family, and you'll become just as attached to Marley as you would to your own dog.
Sounder (1972)
Sounder is a lesser-known film about a dog, but it'll tug at your heartstrings all the same. This movie follows a black family in the 1930s as they struggle to survive. David, the son, is learning to be a man—and he can't get by without his beloved dog, Sounder. This movie deals with some serious topics, but in a loving and tasteful way. It's definitely a recommended watch for anyone and everyone, especially if you're a dog lover!
Because of Winn-Dixie (2005)
This heartwarming movie follows AnnaSophia Robb as Opal, a lonely girl who's just moved and doesn't have any friends yet. She finds a stray dog, known as Winn-Dixie, and finally has someone who loves her back. Winn-Dixie doesn't need to talk to be an amazing character—you'll be tearing up just in the first few minutes of this dog movie.
Air Bud (1997)
Air Bud is classified as a "comedy sports film" so you know it's going to be good. It followed other great basketball movies from the 90s, but added one great element: a dog! Air Bud is about a boy who teaches his dog how to shoot hoops. Dogs in basketball costumes really make this movie funny. This fun dog movie started a whole franchise—there are five films, and nine spinoffs! If you like Air Bud, you'll never run out of dog content to watch.
Togo (2019)
Are you ready to get inspired? Togo follows an Arctic expedition in which a team of heroes has to transport medicine in the 1920s. The team thinks that Togo is the smallest dog, and therefore won't be able to lead the pack, but just watch as he turns out to be stronger and faster than the other dogs. We won't spoil the ending—this remarkable true story about a heroic dog is definitely worth watching.
White Fang (1991)
Based on the famous Jack London book, White Fang has had a ton of adaptations—but this one is the best. It starts Ethan Hawke and follows his character, Jack, through the Alaskan wilderness as he faces the perils and triumphs of the wild. By his side, of course, is a vicious dog named White Fang, who Jack has to tame. It's fun to follow the bond between a man and his dog, and the action scenes will definitely keep you on your toes!
Best in Show (2000)
If you're looking for a comedy about dogs, this movie is definitely for you. Best in Show is a perfect example of the classic 2000s awkward comedy style, like The Office. It's a mockumentary about all the crazy dog owners who enter their dogs in dog shows. It's so funny, and even the dogs are in costumes! The cast is amazing—Dan Levy, Catherine O'Hara, Jane Lynch, and more—and there are tons of good boys on set.
Isle of Dogs (2018)
This Wes Anderson flick has an all-dog cast! Well, kind of. It's not humans in dog costumes—this is an animated movie with a few humans but mostly lovable dog characters. The cast is stacked: Bryan Cranston, Greta Gerwig, and Jeff Goldblum, to name a few. A boy loses his dog and must team up with some scrappy strays to get him back. This visually stunning movie will have you both laughing and crying by the end!
Beethoven (1992)
This movie is about a dog, not the famous musician. When Beethoven runs away from a puppy thief, he meets the Newton family who adopts him. Beethoven becomes a super smart dog—even though he can't talk, he helps out the family all the time. The crazy antics and heartwarming subplots will keep you on your toes, and keep you laughing! Beethoven is definitely a good boy.
This year two popular dog movies came out.  The Call of the Wild (2020) is a movie about a sled dog struggling for survival in the wilds of the Yukon and Think Like a Dog (2020) about a tech prodigy's science experiment forging a telepathic connection with a dog. Both seem heartwarming; but which dog movie is your favourite? Did we forget any iconic films? For your next movie night, snuggle up with your family —and your favourite dog dressed up in costume—to watch one of these amazing dog films!