In "This Hollywood Road," the fourth single from his new album Being Myself, Rob Alexander explores the rock side of his sound with far more zeal than he ever has in previous efforts, expounding upon many of the sonic themes suggested in his early work by approaching grooves with a volume-heavy aesthetic as opposed to a conventional pop look. Aided by Elton John's touring band – but hardly propped up by their prowess – Alexander digs into the verses with a commanding presence in "This Hollywood Road" but carefully avoids the temptation to overindulge in his surroundings. He's got a lot of discipline in the studio, but for the most part, I think this could be his most freewheeling style of play to see widespread release so far.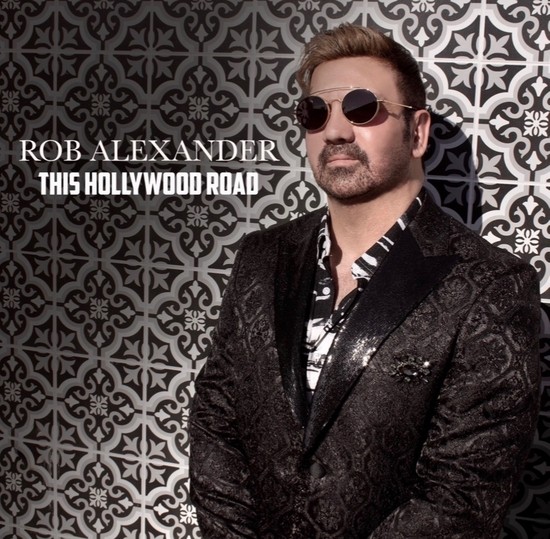 There's a lot more guitar in this mix than I was originally expecting to hear, and though it covers the angles in which a piano would normally fill the air with rich melodicism, it doesn't feel like a replacement element at all. It's quite obvious that the hook was written on a guitar to start with, but it's surprisingly complementary to the vocal style that Alexander is using so liberally in "This Hollywood Road." I don't think the track would have worked quite as well with a different instrumental setup, but regardless of the minute details, the true center of attention is – and always will be with this artist – on the lead vocal in the middle of the master mix.
PANDORA: https://www.pandora.com/station/play/miR1984212
The beat is just as much a communicator of both mood and emotion as any of the lyrics in "This Hollywood Road" are, and I particularly like the way in which Alexander manipulates the rhythm to reflect an aspect of his narrative that wouldn't have been quite as expressive were it conveyed through mere linguistics exclusively. He's able to utilize most every component of the composition as a means of extending a piece of his own heart unto us in this track, and though there are a couple of edges that could have been edgier (were they not as polished in the mastering process as they are in this instance), nothing in the song sounds even remotely inauthentic or fake. This is an artist with high standards, and they don't appear to be descending anytime soon.
Rob Alexander delivers another incredible effort in his new single "This Hollywood Road" and the album Being Myself from which it was originally cut, and more importantly, he continues to demonstrate the kind of growth that so few singer/songwriters in this industry are ever able to experience on a consistent basis. In the time I've been following Alexander, he's produced more than a couple of moving melodies in the studio, but I don't get the impression that he wants to remain a hook-centric performer in this release. He's moving his interests towards the sonically intellectual, and with a little more time to experiment, I think he's going to give us another set of songs even more endearing than this present collection is.
Gwen Waggoner