Charu Suri is a one-of-a-kind composer & pianist who is taking the art of music to a whole new level on 'The Book of Ragas' (scored for jazz trio with Sufi singer). With a completely original style on her latest release, Charu is not afraid to take it to the limit musically. Charu Suri gives one dynamic performance on the new album as she invites listeners to open 'The Book of Ragas' and to get lost within its many chapters.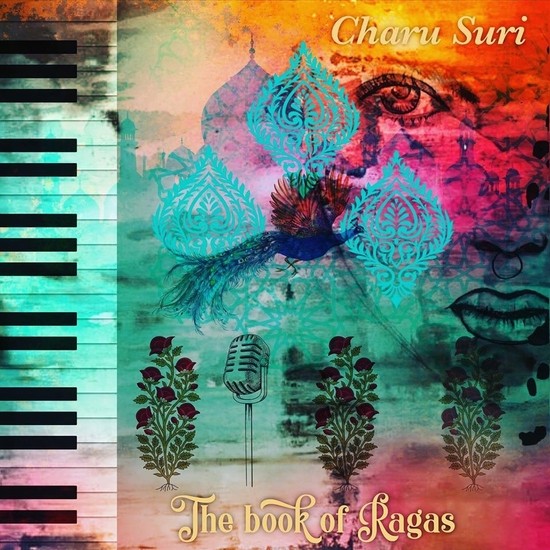 Charu Suri is the first female Indian American jazz composer to premier work at Carnegie Hall and she has even won a Global Music Award for her work on 'The Book of Ragas'. Charu has been playing piano and performing since she was a child, so it's safe to say that she can tickle the ivories with the best of them! I was so intrigued by the concept of this album and so had to go straight to the source to find out more about the creative process behind "Ragas". "A raga is a modal scale. Indian ragas are usually sung or played according to the time of day because they're mood generating. That's why the album is divided according to ragas with various times of the days (most are evening ragas, because that's when they were performed/ sung). A raga scale is not exactly the same as a Western harmonic scale and the ascent and descent are usually different." So, there you have as put so eloquently by Charu Suri and now it's time to dive in and explore 'The Book of Ragas'.
The record starts up with a song called "Raga No. 1 (Bhimpalasi): Afternoon" that offers up a pleasing piano melody and right away Charu is bringing her Indian roots to the surface through her enchanting voice. This composition is enticing and just a pure joy to listen to as Charu gives us some amazing improvisations on "Raga No. 1 (Bhimpalasi): Afternoon". Be sure to SKOPE out the official video for "Raga No. 1 (Bhimpalasi): Afternoon" right here:
On track two, "Raga Kalyani: Evening", one will have a calming sensation rush over them by way of Charu's gentle touch of the keys. On this number, you are just getting an overall serene feel that will soothe your soul, relax your body and ease your mind. On the next song, "Raga Hemant: Evening/Night", get ready for audible pleasantries and a peaceful vibe as you get a sense of simple elegance through Charu's golden performance. The talented pianist and composer ends the set with "Raga Bhairavi: Evening" that has a BIG impact and demands your undivided attention. Charu's playing is so delicate and precise on piano and then throw in commanding and direct vocals that instantly draw you in. The mood is now set and final on "Raga Bhairavi: Evening", so it's time to blow out the candles and prepare to be mesmerized by Charu Suri's captivating presence.
Classical and Jazz combine here to make up Charu's intoxicating blend of Indian-inspired tunes. I can honestly say I've never heard anything quite like this before, so it made for one ear-opening experience. I think you will be impressed with Charu Suri and her wondrous & exotic sound as you closely examine 'The Book of Ragas', which is sure to be a best seller!
http://www.CharuSuri.com
https://www.youtube.com/channel/UCc-KEQ_E1iDTi_6b98a0FPQ
https://open.spotify.com/album/3eTBTc8fXczkEKYzeEmtS9
By Jimmy Rae