I am so very happy to come across this singer/songwriter/musician named Tim Young and his music because it is just the jolt I needed! As a native of Chicago, this Pop-Gospel artist has seriously ignited me and helped me realize once again what is and ALWAYS should be first and foremost in my life: GOD. With all of the craziness and negativity constanly engulfing our nation & world, it's easy to lose sight of what's truly important to me: JESUS. Tim Young's debut EP, 'The Demonstration', rattled my senses and had me listening loud & clear to the message that strong faith is needed now more than ever!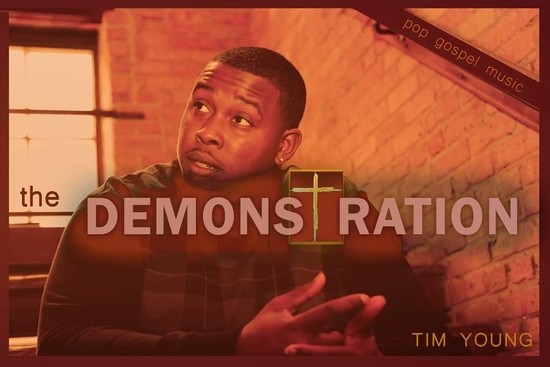 Tim Young is a multi-talented artist that writes songs, sings, plays piano & drums and currently trying his hands at acoustic guitar. With a background in classical and urban contemporary popular music, Tim is putting his version of Pop-Gospel on the map! 'The Demonstration' is a mighty force that shows much promise and introduces US to an emerging talent with highly relevant material. The first track on the EP is titled "Pulling Me Back" that instantly gives the listener a catchy, snappy beat, smooth R&B flow and infectious hooks. Next, you will hear Tim spittin' faithful knowledge on "Dear Resistance" that even comes off as quite poetic in form. Track three, one will go "By Faith" and discover a spiritually uplifting & upbeat tune that you will want to sing along to. Moving along, we hear "Now" that contains body-movin' beats and a slammin' groove that will have you dancing for days. Track five, "Kill Yourself" may sound grim but actually supplies deeply rooted lyrics and an intensity where "The Holy Spirit can help". Grab yourself some "Real Love" that has a soft touch and loving embrace, which is so desperately needed today. This song is pure-sounding with a solid vocal performance and Tim emphasizes that you can receive "Real Love from Christ". Tim Young ends on a fierce note with "6 Day Praise Plan" that will have you praising the Lord and spreading the Good News all week long. The Windy City native proclaims that "My Faith Won't Drop" on the "6 Day Praise Plan" where he remains relentless to the end!
It's hard to believe that this is a debut release for Tim Young because the recording quality is so clean & polished. I also LOVE that the focal point on this EP is God and equally LOVE the Pop-Gospel element. Tim Young is one to watch out for as I feel he is just scratching the surface. 'The Demonstration' showcases Tim Young as a true artist and God-fearing man. I wanted to leave you with some words of wisdom from Tim Young himself: "If PopGospel's only vehicle was music, it would cheat its reach. I'm here to share the impact of the best relationship I'll ever be in- the relationship with Christ. I hope you're blessed by what comes next. Let's get into it."
AMEN!
http://popgospelspeaks.wixsite.com/timyoung
https://twitter.com/PopGospelSpeaks
https://www.facebook.com/PopGospelSpeaks/
https://www.youtube.com/channel/UCoeGF1e6KaibqePccyBshug
By Jimmy Rae (https://twitter.com/2JRae)