Swedish Children of The Sün releases a new single and music video. It's the first music from the band since their debut album 'Flowers' from the summer of 2019. The new single 'Mountain of The Sun' is a stripped-down, stand out track. It invites you to a homey breathing space and whispers promises that everything will be all right someday. "Mountain of the Sun" is out on all digital platforms May 8 and is released together with a music video.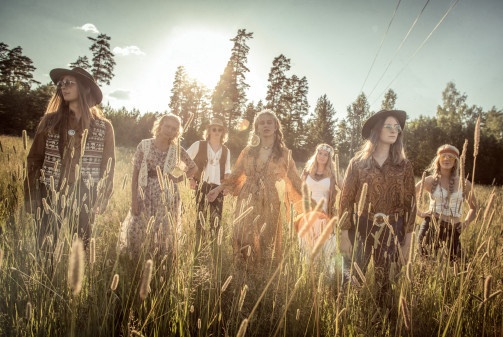 "'Mountain of the Sun' is a tribute to life, and it's fragility. It's a place we all need to go sometimes, whether you're feeling broken or worn out. A friend of mine asked me why we chose to release a ballad as the first song since last album. It's simple. It's needed now, more than ever. The song is dedicated to my little sister, Hanna."
Jacob Hellenrud on "Mountain of the Sun":
Children of the Sün was formed in Sweden in 2016. Influenced by artists such as Jimi Hendrix, Joe Cocker and Janis Joplin, the band is a seven-member strong music collective who brings a wooden sun on stage and lives according to the flower-power spirit of the late '60s. In 2018, the band won the national Swedish music- contest "Livekarusselen" and released their self-titled debut EP. The following year, the band's debut album "Flowers" was released on The Sign Records, a record that received great reviews in international and national press. Children of the Sün has since played gigs and festivals in Sweden, including The Sign Record's own traveling festival "The Sign Fest". They're finally back with new music, in a mission to bring peace into an otherwise turbulent world.