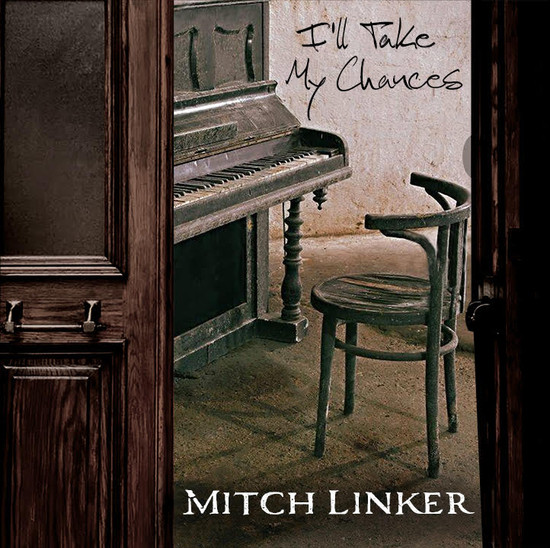 So it is so good to be here – nowadays everyday healthy and surrounded by music is not to be taken for granted. Our guest today is interesting in that he is an incredible and passionate musician from the great state of CT – who took a 13 year break from music. Then all of a sudden life events told him he could not be away from music any longer and he headed on the journey to create his new EP – 'I'll Take My Chances'. After listening to this 4 song collection you can hear how real and honest Mitch Linker is with himself and his audience. We are so excited @skopemag to be a part of his return to music and get him to unveil his life today from covid19, 13 year musical hiatus and return, the new EP, and much more!
@skopemag: Where are we talking from today and how has your life been affected by COVID-19?
ML: I am at home which is in Bloomfield, Connecticut, just outside of Hartford. In some ways, as is the case for most, life is on pause. But I am fortunate in that, knock on wood, I am healthy and I have been able to continue working. I recognize that, while this has been inconvenient and certainly unnerving and surreal, I am very lucky.
@skopemag: How do you see this whole pandemic playing out in regards to getting back to a new normal from where we were in early January 2020?
ML: There was a period when I thought we would more or less flip a switch, and get back to normal, but more and more it's looking like it will be incremental. Looking at it optimistically, given how much freedom we've lost, we'll appreciate every step we take towards normalcy. For instance, I never realized how much I love my gym and what an enjoyable part of my routine it was. When it re-opens, I will probably get emotional which sounds silly.
@skopemag: You took a break from creating music for 13 years – what happened that inspired you to get back into it?
ML: The main catalyst for getting out was the 2008/2009 recession. At that point in time, I was very much in debt from years of holding low-paying jobs while spending thousands of dollars on my fledgling music career. When people started losing their jobs, I felt very financially vulnerable and decided to get serious about a non-music career and to stop spending money on recording and promo. It's ironic that I am now releasing my first new music in 13 years just as we tumble back into a recession, or worse. I never intended to completely abandon music, but I lost interest. I'd wanted music to be my full time job. When I realized that was never going to happen, I just completely changed my focus. I guess I had an all-or-nothing attitude at the time. I was too jaded or disgruntled to let music be just a hobby.
I literally didn't sing, play the piano, play the drums, write or perform for 13 years. Cold turkey. I didn't just stop pursuing a career. It's like I erased that part of my brain. Then one day last summer I stumbled upon a folder on my computer with all these recorded musical ideas. Some were fragments, and some were totally completed songs. I'd forgotten about all of it. As opposed to my official releases which I know by heart, this was like listening to a stranger, but a stranger who sounded like me and wrote the type of music I loved. I listened to it over and over and I became smitten with it all. I then sat down at the piano and started writing and I just didn't stop. After a month of playing and writing at every possible moment, I decided I wanted to record so I called my old friend and collaborator, the incredibly talented producer, engineer, composer, singer and instrumentalist Brett Kull to see if he'd like to record some tunes. (He's also a wonderful songwriter who has a great career as an artist.) We'd lost touch and I was so grateful he was willing to work together. I went down to his studio in late January and we cut the four songs. We just picked up where we left off.
@skopemag: 13 years is a long time – how has the industry changed for a DIY / indie artist in 2020 as opposed to 2007?
ML: It is so different and to be honest, I am still figuring it out. In 2007, you'd get CDs pressed and book gigs. Now, so much of it is getting onto playlists and social media. I remember when Brett sent me the finished masters in February I felt a little sad because I had this strong feeling of "now what?" I hadn't updated my Facebook page in years and I had never used Spotify. The only thing I knew was that I was not pressing CDs. I've gotten up to speed a little, but I still have a lot to learn. I don't intend on touring so I need to figure this stuff out because it's the only way people will find my music.
@skopemag: Did you consult with friends / family before your return to music or did it just come from you alone?
ML: Great question. No. I was excited to surprise everyone. I told my Dad and brother and wife, but I didn't play them, or anyone else a single note until it was 100% completed.
@skopemag: I am really enjoying the new – EP – 'I'll Take My Chances.' Let us know how long it took from writing the songs to mastering & distribution?
ML: I started fleshing out the ideas in October 2019. While my inspiration came initially from all those old song ideas I found on my computer, very little of that old material made it onto the EP. Once I got started, I just kept writing. I finished writing and arranging (in my head) over the holidays and then I spent a day and a half at Brett's studio in late January. I played the piano, drums, and vocals as well as a few keyboard bits, and then I headed back to Connecticut (he's outside of Philly) and Brett recorded the rest, in addition to mixing and mastering. He sent over mixes and after agreeing on some minor edits, he mastered it. The finals were emailed to me in Mid-February and I released it in Mid-March.
@skopemag: You have four songs on there. What was the selection process like and how did you choose the final tracks?
ML: I probably had 6 or 7 completed songs that were contenders, and I just settled on the 4 I liked the most. Writing lyrics is very hard for me and it's my least favorite part. So I only write the words once I've committed to the songs because I don't want to spend hours writing something I'll wind up shelving. It's the total opposite with the music. I can write and write and write and then say, "Nah," and not feel as though I wasted time because it was so fun to play around. It's part of my process. I finish a song after weeks of tweaking, and then I determine if it's good enough to really pursue. I only had the bandwidth (time, resources) to do 4 songs, but I intend to record another 3 or 4 songs this July. I like not committing to a full album. I would rather refine a handful of tunes, making them as good as I can. The thought of doing 11 songs at one time feels overwhelming, and in this day and age, not totally necessary.
DSP – https://open.spotify.com/album/1A72VVaLUpXStAUw45L4aM
+
https://music.apple.com/us/album/ill-take-my-chances-ep/1502333768
@skopemag: If you were to create a music video for one song – which would that be and what would that look like visually?
ML: I'd love to do a video for the lead track, "Given Everything." If you know anyone who'd like to donate their time to make one for this track, let me know. That song sounds like autumn to me. It "sounds" dark and gloomy even though it's a very simple, major-key song. The fairly ominous album artwork, beautifully created by the talented graphic designer Tim Kwait, was inspired by the song. Anyway, I envision singing it while walking on a country road by a field in the late fall, wearing a long winter coat. Perhaps it would be in black and white.
@skopemag: Being that you cannot play live right now – how do you plan to let folks know about the new music?
ML: I'll just keep trying to get it discovered online via social media and streaming services. I don't intend to play live much anyway, so I can't blame COVID-19 for hindering my promo plan. I never really enjoyed the touring scene. In fact, I think that's partly why I never "made it" back in the day, in that I never quite committed to being on the road as much as I needed to be. I never liked the lifestyle. I always loved writing and recording, but not the grind of gigging. I love the studio.
@skopemag: When you are not making music – what other hobbies / passions / work / school / do you have?
ML: I love to read and exercise. I enjoy spending quiet time with my wife and pets. And I have a good career as a non-profit fundraiser that is fulfilling.
@skopemag: So if I were to ask where you want to be one to two years from now – what does that look like and how?
ML: I hope to have completed at least 2 more EPs and I hope to have a found a small audience who enjoys my stuff and looks forward to my releases. I think there is an audience out there for the type of music I record. Though, my style has nothing in common with what's popular in the mainstream, so it might be a modest group. I just need to put in the work and keep trying to find them.